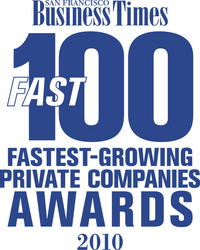 Freeborders has deep roots in San Francisco, one of the most vibrant hubs for technology innovation. The talent of our employees has been instrumental in nurturing our global growth by delivering high quality IT services to our clients
San Francisco, CA (Vocus) October 26, 2010
Freeborders, Inc., a global provider of consulting, technology and outsourcing solutions to financial services and Internet based businesses, today announced that the San Francisco Business Times named Freeborders among this year's 100 Fastest-Growing Private Companies in the Bay Area. Freeborders ranked number 65 based on its revenue growth in the past three years.
Fast 100 Companies are ranked on percentage revenue growth from the years 2007 to 2009. The San Francisco Business Times partnered with PricewaterhouseCoopers to conduct the research and identify the fastest growing private companies in the Bay area.
"Freeborders has deep roots in San Francisco, one of the most vibrant hubs for technology innovation. The talent of our employees has been instrumental in nurturing our global growth by delivering high quality IT services to our clients," said Jean Cholka, CEO of Freeborders. "Freeborders' mission is to provide business value to our clients with innovative technology, consulting and outsourcing services."
Executing on its global growth strategy, Freeborders also recently acquired Denver-based MindWorks, Inc to add SAP expertise to the company's growing portfolio of business, consulting and technology solutions.
About Freeborders
Founded in 1999, Freeborders helps financial services, Internet services and retailing companies solve the most complex business challenges. The company provides global consulting, technology and outsourcing services through an integrated China to US delivery model. Freeborders enables clients to cost-effectively adapt their business infrastructure to market opportunities and changes, offering deep domain expertise, innovative thinking and strategic execution. Headquartered in San Francisco, the company has offices in Denver, New York, London, Hong Kong, Kuala Lumpur, Shenzhen, and Wu Xi. To learn more, visit http://www.freeborders.com.
Freeborders Webinar Series
Freeborders is hosting a series of free educational Webinars on information technology topics and China business trends throughout the year. On November 9, 2010, Harvey Koeppel, Executive Director of the Center for CIO Leadership will interview John Wagster, Executive Vice-President and General Counsel at Freeborders, and Paul Liu, Chief Information Officer at Freeborders on powerful ways for companies to ensure that their intellectual property and rights and are safe. Register at http://freeborders.com/Webinar-Nov-9-Registration.html
© 2010 Freeborders, Inc. All rights reserved.
# # #