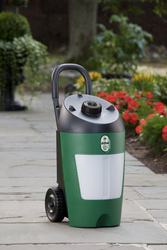 "Our studies conclude that the ALLCLEAR Mister is very effective at controlling mosquitoes in a designated area for long periods of time," comments Bill Donahue, Ph.D., CEO/Laboratory Director, Sierra Research Laboratories.
Dallas, TX (PRWEB) June 1, 2010
Dad's time outdoors doesn't have to be ruined by maddening mosquitoes. Imagine giving him the power to clear the yard of the annoying pests for hours at a time...and all with the touch of a remote control button. It's that quick and easy with the ALLCLEAR Cordless Mosquito Mister (http://www.allclearmister.com). It's the first portable, rechargeable-battery-powered insect misting technology that kills and repels mosquitoes and other nuisance insects in areas up to 4,000 square feet for as long as six hours.
Based on professional mosquito control technology, but designed for backyard convenience and protection, the ALLCLEAR Mosquito Mister is the perfect solution for the Dad who wants to enjoy his outdoor domain without the annoyance of mosquitoes and other biting insects. Independent tests conducted by entomologists in several US locations prove ALLCLEAR Misters and Concentrates reduce more than 90% of mosquitoes in areas up to 4,000 sq. ft. with each three minute mist application.
"ALLCLEAR delivers immediate, proven-effective insect protection in a convenient, easy-to-use way," says Jim Mills, President, Universal Pest Solutions, LP, manufacturers of ALLCLEAR.
Operation is quick and simple. Just wheel the cordless Mister into the desired area of protection and activate with a remote control. For three minutes the Mister dispenses an atomized mist of specially formulated ALLCLEAR Concentrate and water. The mist kills mosquitoes on contact -- including the Culex species that may transmit the West Nile Virus -- and creates an invisible veil of protection from mosquitoes and other nuisance insects.
The ALLCLEAR product line features the ALLCLEAR Cordless Mosquito Mister that protects areas up to 2,000 sq. ft., perfect for patios, decks, and smaller yards. The ALLCLEAR PRO that protects up to 4,000 sq. ft., ideal for medium to large yards, pool areas, and vacation homes. ALLCLEAR '100% NATURALS' Concentrate, a 100% green, plant-based formula with Geraniol, an extract of the lemongrass plant, protects up to 2 hours. 'Botanical Pyrethrum' Concentrate made from dried chrysanthemum flowers, protects up 4 hours, and 'Synergized PLUS' Concentrate that contains permethrin, the synthetic equivalent to botanical pyrethrum, effective for up to 6 hours protection.
ALLCLEAR products are available nationwide at Ace Hardware, True Value, Meijer, independent hardware stores, and online at http://www.frontgate.com. The ALLCLEAR Mosquito Mister has an MSRP of $299.99; PRO model has an MSRP of $499.00. The ALLCLEAR Concentrates provide up to 25 mist applications per bottle and have an MSRP of $29.99 per bottle.
Universal Pest Solutions, LP, headquartered in Dallas, Texas, identifies and develops products that effectively control and eliminate mosquitoes and other nuisance insects.
###