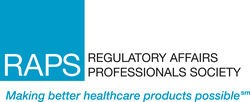 Rockville, MD (Vocus) October 27, 2010
San Jose, CA, USA—The Regulatory Affairs Professionals Society (RAPS) today honors its 2010 class of RAPS Fellows. The 13 distinguished Fellows are highly accomplished professionals working in the healthcare product regulatory field. They will be honored during a special closing session of the 2010 RAPS Annual Conference & Exhibition in San Jose, CA.
The RAPS Fellows program recognizes senior regulatory professionals for their continued significant contributions and leadership in the advancement of the profession and the professional. Fellows receive a dignified status and hold the FRAPS designation, and serve as important resources for strategic dialogue, implementation of special initiatives and international development. Fellows represent all segments of RAPS membership, including industry, government, academia, research and clinical organizations. This is the third year of the RAPS Fellows program.
The 2010 RAPS Fellows are:

Elsa Abruzzo, RAC, president/CEO, Abruzzo Regulatory Affairs Consulting (ARAC) LLC
Carolyn Albertson, senior director, global regulatory and government affairs, Abbott Corporate Quality and Regulatory
Grace Bartoo, PhD, RAC, CBA, CEO, Decus Biomedical LLC
Martha Bennett, RAC, president, Bennett and Company
Alan Donald, MS, MBA, RAC, president, Matrix Medical Consulting Inc.
Mina Gerber, MS, RAC, senior director, Quality Assurance, GTC Biotherapeutics Inc.
Margaret Hurley, MD, president and CEO, Hurley Consulting Associates Ltd.
Susan James, vice president, worldwide regulatory affairs, R&D compliance and quality, GlaxoSmithKline Consumer Healthcare
Susan Mondabaugh, PhD, vice president, regulatory affairs, Hurley Consulting Associations Ltd.
Helen Ribbans, MBA, RAC, president, B&H Consulting Services Inc.
Barry Sall, MA, RAC, principal consultant, Parexel Consulting
Valentina Theisz, MSc, RAC, regulatory operations manager, Pfizer
Melissa Walker, MS, RAC, senior vice president, regulatory, quality, and compliance, Stereotaxis Inc.
For more information and a complete listing of the more than 70 conference sessions and events, visit http://www.RAPS.org/ac2010. Follow conference updates on Twitter with the hashtag #2010RAPS.
Members of the working media who wish to cover the 2010 RAPS Annual Conference & Exhibition should contact Zachary Brousseau, senior manager, communications for RAPS or register on site with valid press credentials.
Conference sponsors include: Abbott, BSI, Dassault Systèmes, GE Healthcare, Greenleaf Health, Makrocare, Parexel, QPharma, Tarius and TÜV SÜD America.
About RAPS
The Regulatory Affairs Professionals Society (RAPS) is an international membership organization of regulatory professionals in the rapidly growing medical device, pharmaceutical and biotechnology sectors. Regulatory professionals play vital roles in making better healthcare products possible. They work throughout the healthcare product lifecycle, ensuring these products are safe and effective, while driving organizational strategy and sound decision-making. RAPS supports these individuals and the regulatory profession by providing education and training, Regulatory Affairs Certification (RAC), professional standards, research, knowledge-sharing, publications, networking, career development opportunities and other valuable resources; and is committed to helping its members continually develop the knowledge and skills they need to excel. RAPS is headquartered near Washington, DC, with offices in Brussels and Tokyo. RAPS.org
###