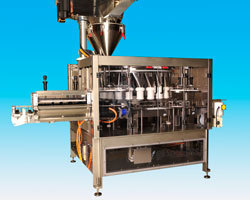 Spee-Dee continues to maintain its leadership position within the packaging machinery marketplace by being the first manufacturer to develop an entirely servo driven rotary system
Sturtevant, WI (Vocus) May 27, 2010
As a result of an extensive research and development effort, James P. Navin, President of Spee-Dee® Packaging Machinery, Inc., has announced the company's introduction of a revolutionary Rotary Filling machine. "Spee-Dee continues to maintain its leadership position within the packaging machinery marketplace by being the first manufacturer to develop an entirely servo driven rotary system," he revealed.
Timm Johnson, Vice President, Sales/Marketing, explained that the Rotary Auger Filler is designed to accurately fill a broad cross section of products, such as spices, non-dairy creamers, coffee and cornstarch, into a variety of bottles and other rigid containers at rates of 100 to 400 units per minute.
According to Johnson, Rotary Fillers servo driven design facilitates easy phasing of timing screws, turret stars, and auger filler electronically, which eliminates the time and expense associated with mechanical adjustments. "The system stores turret/timing screw position when the unit is shut down and automatically re-homes after an e-stop condition when the system is restarted. Servo technology also promotes enhanced performance of the unit's No Container/No Fill feature because it enables the auger to stop more quickly. Continuous check weigh feedback facilitates automatic adjustments to improve fill accuracy rates, further maximizing the efficiency of the filling process," Johnson clarified.
The Spee-Dee® design team developed a unique turret configuration that enables it to be quickly and easily disassembled into separate components without the use of tools. The system's unique design enables users to cost-effectively address changes in packaging height, diameter or shape through the use of interchangeable plastic container adapters. Only one set of funnels is required. Funnels, adapters and other change parts are all no-tool quick disconnect, which dramatically improves the speed and efficiency of product changeover and cleaning operations. A clear system base allows operators to visually inspect the unit during operation, while all programming and diagnostic functions are efficiently managed through the use of an Allen-Bradley control system.
Spee-Dee® Packaging Machinery, Inc. is a premier quality manufacturer of equipment to measure and fill dry products in consumer size containers (bags, bottles, pouches, cans and cartons). Spee-Dee was a pioneer in the development and manufacture of both servo auger and servo volumetric cup fillers. Spee-Dee Packaging Machinery serves a global base of clients in diverse market segments, including the food, chemical, pharmaceutical and agricultural industries. Now in its third decade, the company boasts a star-studded client roster of industry giants and Fortune 500 companies. A history of innovative electrical and mechanical design and programming, coupled with advanced technology and unparalleled customer service, support Spee-Dee Packaging Machinery's position as an industry leader. For more information, please contact Timm Johnson, Vice President, Sales/Marketing, Spee-Dee Packaging Machinery, Inc., 1360 Grandview Parkway, Sturtevant, WI 53177, toll free 877-375-2121, 262-886-4402 or fax 262-886-5502. Send e-mail to info(at)spee-dee(dot)com, and view Spee-Dee's entire family of equipment solutions, including the new Rotary Filling System, at http://www.spee-dee.com.
###