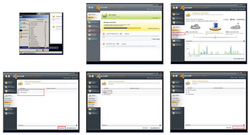 FireDocs increases our product offerings and addresses customer needs. This targeted product can simplify a commonly encountered application connectivity problem.
San Francisco, CA (PRWEB) March 2, 2010
OPSWAT, Inc. today announced that it has released FireDocs SDK: a toolkit to create documentation that—after detecting a specific firewall product—can guide users to properly configure their firewalls to work with third-party applications and devices; thereby reducing support calls and keeping customers happier.
FireDocs adds an additional option to OESIS Framework customers. In addition to OESIS and OESIS Pro, they will now be able to license a toolkit product specifically targeted to firewall management.
Personal firewalls are a critical part of any security set up. However, dozens of other important applications will face compatibility problems when a firewall is unconfigured. FireDocs is perfect for creating instructions for any application that demands outbound access from the system and could be negatively affected by an overzealous firewall. Containing dozens of the most popular personal firewalls, the SDK is regularly updated and contains an easily integrated XML document as well as screen shots for each configuration step. These combined features are ideal for creating an instructional wizard to accompany any application.
Examples of implementations that could benefit include:

Applications communicating with wireless peripherals such as keyboards, mice, printers, monitors, hard drives, digital picture frames, etc. The goal of any firewall is to prevent unauthorized inbound/outbound communication with a system. If the firewall is not familiar with a particular peripheral—and the list of peripheral products grows daily—it will naturally attempt to prevent access.
Applications requiring periodic access to the Internet (applications requiring data updates or access to online resources, etc.). Tax and accounting applications are obvious examples where external access is necessary, but potentially fraught with issues because of a poorly configured firewall.
To aid in customer support with their Peachtree accounting software Sage North America has already implemented the detection features of the Firewall SDK in the Security Application Scanner utility hosted on their website.
Why choose FireDocs?
Reduction in go to market costs
Reduction in support costs
Continually enhanced and updated
Already exists as a ready-made package featuring dozens of applications and hundreds of screen shots
Built on OESIS Local application libraries that have been employed for years by market-leading technology solution providers like Cisco, Juniper and Microsoft.
FireDocs includes documentation for
avast!
AVG
Check Point (ZoneAlarm)
ESET
Kaspersky
McAfee
Microsoft
Symantec (and Norton)
Trend Micro
And many others
"We've often heard from existing OESIS Framework customers how guiding users through configuration issues eats up costly support personnel hours," said Benny Czarny CEO of OPSWAT. "FireDocs increases our product offerings and addresses customer needs. This targeted product can simplify a commonly encountered application connectivity problem."
More information is available on the OPSWAT product page.
About OPSWAT
Founded in 2002, OPSWAT provides software engineers and IT pros with development tools and data services to power manageability and security solutions. OPSWAT, Inc. created OESIS OK, an industry-wide certification program that verifies the interoperability of endpoint security applications with products from market-leading technology vendors. The free Am I OESIS OK? utility hosted at http://www.oesisok.com enables end users to assess the interoperability and quality level of their applications.
###