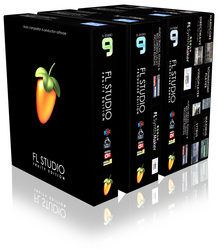 (Vocus) May 18, 2010
Image Line Software, leading developer of audio production software, introduces FL Studio 9.1, the latest version of it's music creation & production program (DAW).
FL Studio 9.1 incorporates a number of enhancements and new features based on ongoing development and customer input. These include:
New plugins:

Notable changes & improvements:
APDC – Assisted PDC now automates the Plugin Delay Compensation settings. A single click will set the PDC for any Mixer Tracks needing it.
Edison – Now exports to .mp3 format, remembers the location of the last file loaded between project sessions and has a new 'Send (selection) to playlist' button for faster workflow.
Piano roll – Right-clicking the channel selector on the Piano roll now opens the target plugin & channel settings.
Playlist – Updated and improved tempo fitting system. Now has a 1-click 'lock to project tempo' feature and more accurate beat-detection.
Synthmaker – Updated to version 1.1.7
Plugin wrapper – Numerous improvements and changes to further improve 3rd party plugin compatibility.
Browser – F5/F6 buttons now send content from the Browser to the last touched plugin in the project.
For a video overview of the top 10 changes to FL Studio 9.1 visit the FL Studio Guru Blog to find out more.
Customers with lifetime free updates (LFU) can upgrade from any version of FL Studio to 9.1, free. Customers without LFU and using FL Studio 7 or lower can gain LFU status for a one-time payment of $39 USD
FL Studio 9.1 is available for purchase online (via download) or in boxed form through traditional music & software outlets. All downloadable versions will come with lifetime free updates included in the price. For those who prefer to purchase the boxed version, Image-Line is including a Virtual Cash Card in the box that customers can use to register online and to receive $49 USD virtual cash. The v-cash can be spent on lifetime Free Updates or put toward other Image-Line download-products. Any FL Studio 9 box can be upgraded to FL Studio 9.1 free via program download.
Editions and prices:
Express Edition (US $ 49, download only)
Fruity Edition (US $ 99 download / US $ 139 boxed)
Producer Edition (US $ 199 download / US $ 269 boxed)
Signature Edition (US $ 299 download /US $ 399 boxed).
About FL Studio:
FL Studio is a fully featured, open-architecture music creation and production environment for PC & Intel Macs running Bootcamp. No extra software is required to produce any style of music, as the complete set of instruments and studio tools is included in the package. The user can easily create songs, backing tracks, loops and sizzling beats. Completed songs can be saved to WAV, MP3, MIDI, .ZIP or native project formats (.FLP).
Additional information on FL Studio is available at http://www.image-line.com or http://www.flstudio.com. You can also read the FL Studio 9 manual on-line at http://flstudio.image-line.com/help/
About Image Line Software:
Established in 1994, Image Line Software provides high quality music applications to the computer-based music community and is well known for its leading digital audio workstation FL Studio (formerly FruityLoops), high quality synthesizers including Sytrus, PoiZone,Toxic Biohazard, Morphine, Ogun and Sawer, a mix of innovative Effect plugins like Maximus and Hardcore and range of sample libraries used in their multi-sampler plugins DirectWave and Soundfont Player. In May 2007 Image Line Software released its acclaimed DJ mixing software application Deckadance. In addition to its audio software, Image Line Software develops and distributes the web site building application, EZGenerator.
###