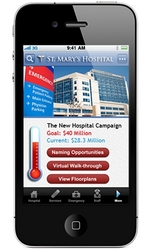 These apps allow fundraisers from universities, hospitals, foundations and other groups to educate and engage donors on the go.
San Francisco, CA (PRWEB) September 29, 2010
MacroView Labs, Inc., a top developer of innovative mobile software, today announced a new set of tools and in-house experts to help fundraisers create mobile apps, mobile websites, and mobile campaign materials to interact with donors and prospects to engage them in projects and inspire support.
"There are some great mobile solutions out there for soliciting small donations from the public -- and we incorporate many of them into our iPhone, Android, and web apps," said Aron Ezra, CEO of MacroView Labs. "But we haven't seen as many powerful tools to help fundraisers with the day-to-day work of pursuing larger, transformational gifts. Those gifts require steady relationship-building via multiple channels, including mobile."
MacroView Labs custom builds each mobile app for every client, and can incorporate a wide range of different functionalities into the app. Nonprofits can build apps primarily to help their fundraising staff to be more effective or to expand their interaction with donors and prospects. Organizations can also create hybrid apps that include a public section for donors and prospects, and a password-protected section for fundraising staff.
After launching an app, MacroView Labs provides unlimited, ongoing support to help clients continually improve the effectiveness and ROI of their mobile outreach.
"Gift officers and stewardship teams can send out real time campaign updates, provide digital VIP cards to big donors, share thank you videos from recipients, present PowerPoints and building plans via the app, hold virtual meetings, give behind-the scenes tours, augment fundraising events, and so much more," said Ezra.  "And we integrate with Facebook, Twitter, Foursquare, YouTube, Flickr, you name it. Instead of printing and carrying around expensive glossy brochures that are impossible to update, you can take a prospect to lunch and show up-to-the-minute, interactive presentations on a phone or iPad. It makes a powerful impression."
The new services are available immediately.
ABOUT MACROVIEW LABS
MacroView Labs is a mobile software company that helps its clients and their target audiences understand and interact with each other using mobile technologies. The company builds private-label apps for organizations and provides ongoing development, hosting, licensing, best practice mobile consulting, unlimited upgrades and account management activities. The apps give guests and customers an enhanced real-world experience by providing them with schedules, GPS maps, games, activities and other concierge services. Clients are able to advise, help and learn from their key stakeholders. The San Francisco-based company is privately held. More information is at  http://www.macroviewlabs.com.
###