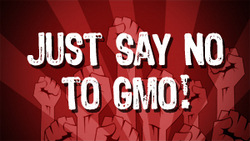 I'm really excited to be able to sing about the dangers of GMOs and help alert people to what's really in their foods
Tucson, AZ (Vocus) October 15, 2010
In support of Non-GMO month, the Health Ranger has released a new rap song with music video called "Just Say No to GMO." Written and performed by the Health Ranger, this new song takes aim at the biotech industry by exposing the dangers of genetically modified foods while promoting the Non-GMO Project Verified logo that helps consumers identify foods that are safe to eat.
The music video can be viewed on the NaturalNews.TV video site at:
http://naturalnews.tv/v.asp?v=B459FF2B150FDF4651302A60993D9CF3
It is also available on YouTube at:
http://www.youtube.com/watch?v=HnN6FFjZBZQ
The video features rap lines from Jeffrey Smith, executive director of the Institute for Responsible Technology at ResponsibleTechnology.org, a non-profit educational group that teaches consumers about the dangers of genetically engineered foods. IRT also supports mandatory labeling of GMO foods.
The "Just Say No to GMO" song can be downloaded as a free MP3 file at http://www.naturalnews.com/NoGMO
That same page offers song lyrics, ringtones, videos, commentary and information resources where consumers can learn more about the dangers of GMO foods.
"Just Say No to GMO" is the fifth song in Mike Adams' album "Beyond All Reason," available at: NaturalNews.com/Music
"I'm really excited to be able to sing about the dangers of GMOs and help alert people to what's really in their foods," Adams said. "This is an issue that touches the lives of everyone. Genetically engineered foods have invaded our food supply, and people have a right to know what that means to their health."
Reaction to the song has been strongly positive:
"Just say no to GMO is the Battle Hymn for our new Organic Republic. Take action against Monsanto and their mad scientists and indentured politicians." - Ronnie Cummins, Director, Organic Consumers Association at OrganicConsumers.org
"Mike's Anti-GMO rap is not only great music, it's just the kind of creative way we need to get the message out to people who may not even know they are eating dangerous genetically modified organisms every day. Great job Mike!" - Jeffrey Smith, executive director, Institute for Responsible Technology at ResponsibleTechnology.org
"Mike Adams has combined his talents of honest health reporting and surprising music composition to create a song that is a modern call to action against the dangerous and imminent genetic modification of our entire food supply." - Kevin Gianni, founder, the Renegade Health Show at RenegadeHealth.com
For more information, visit http://www.NaturalNews.com/Music
Press Contact:
Holly Pinnella, Media Relations
NaturalNews.com
Holly.p(at)naturalnews(dot)com
520-232-9300
###