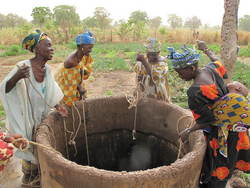 World Connect grants funnel a minimal amount of funding to the right people, ensuring maximum impact
Waltham, MA (Vocus) October 28, 2010
World Connect, a nonprofit that empowers local leaders in undeserved communities to solve local challenges faced by women and children, today announced its support of 16 new World Connect projects that will impact over 13,000 women and children in Costa Rica, Dominican Republic, El Salvador, Mali, Morocco, Peru, Philippines and Rwanda.
Introduced last spring, the World Connect Grants program provides women with the tools to improve the health and wellbeing of themselves, their families and their communities. Grants of up to $2,500 and program support are given to Peace Corps volunteers working on the front lines with local leaders to address very specific community needs and create innovative projects that are both attainable and impactful. With this round of projects, World Connect has now supported 35 projects impacting 21,500 women and children.
"World Connect grants funnel a minimal amount of funding to the right people, ensuring maximum impact," said Jacquelyn Caglia, program director. "By involving change makers from the community, the projects we support have immediate and long lasting effects on the health of women and children."
Projects receiving support from this round of applicants include:
Costa Rica - World Connect supported two projects including Fish for Families, a women-led project that will build a small "soda" (restaurant) to prepare and sell fish and organic vegetables farmed by a local women's group. The earnings will be reinvested back into their community to improve the health of their families.
Dominican Republic – World Connect funded one grant, Dia de las Donas Exchange & Workshop, a locally run workshop focused on teaching women how to take control of their health.
El Salvador – World Connect funded two grants including Granos Basicos por Salud Basica (Basic Grains for Basic Health), which will provide affordable and healthy basic grains to the community of La Colonia San Francisco.
Mali – World Connect funded two grants including Bougaribaya, a project to install solar electricity in the Bougaribaya Community Health Center in Mali to power lights after dark and refrigeration to properly store vaccines and medicines.
Morocco – World Connect funded two grants including Peer Education, a project that will train 30 students to present health lessons, with emphasis on lifeskills and health topics including HIV/AIDS prevention, to college and high school classes.
Peru – World Connect funded two grants including Callao Adolescent Sexual Health Project, a project focused on educating young girls on sexual health and risks in schools that lack funding for adequate sexual health education.
Philippines – World Connect funded one grant, the Solid Waste Management & Materials Recovery Project, two student-managed and operated recycling programs that will control waste, compost biodegradables to make fertilizer and use profits to purchase school supplies.
Rwanda – World Connect funded two grants including Bushenge Health Worker Training & Maternity Beds, which will train nurses about basic health and disease prevention as well as provide six beds for a maternity ward.
To be considered for the World Connect Grants program, applicants must demonstrate a plan that has a high probability of sustained success and local ownership. The project leaders submit ongoing status reports that show the real power of their projects in action. See below (or read the World Connect Blog) for highlights from field:
Sewing for Success in Costa Rica
The Sewing for Success program launched with support from World Connect gives women with limited economic resources a chance to build their skills while earning money and helping fund community development. The program provided one of the participants, Gilda, with her first income in 18 years. Within a month and a half, Gilda had made over $200 that she has used to buy more food for her children and a helmet for her son who rides a motorbike to work.
Look What's Growing in Niagadina, Mali!
With support from World Connect the Niagadina Women's Community Garden created a two-hectare community garden and more than 600 meters of new fencing that has improved the nutrition and livelihood of women. The project is moving forward now by organizing garden plots, membership fees and a schedule of vegetable plantings.
Moving Forward in Rwanda
With World Connect's support, members of the Cooperative IGANABIKORWA ("working towards and doing activities" in the local language) taught local women how to make fabric and soap. After three weeks of lessons, the group produced its first products. After taken the first products around the village to show members of the community their new skill, the members were off to the market to sell.
About World Connect
World Connect is a non-profit organization that empowers local leaders in underserved areas worldwide to solve local challenges by improving the health and wellbeing of women, children and communities. Since 2005, World Connect has contributed millions of dollars through over 300 grants and in-kind gifts, supporting more than 275 communities in eleven countries. World Connect has two giving channels: World Connect Grants, which supports change makers in maternal and child health projects, and Kids to Kids, which funds innovative youth arts, sports, education and environmental projects. Visit World Connect at http://www.worldconnect-us.org to learn more about the long-lasting and transformational impact of its programs.
# # #