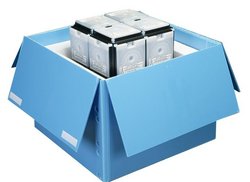 The TimeSaver72™ consists of an outer box, insulating material, and refrigerants
Edison, NJ (Vocus) September 25, 2010
Cryopak, the leading manufacturer and innovator of temperature controlled products, is a recipient of the 2010 Greener Package Award.
Cryopak's TimeSaver72™ pre-qualified shipper was submitted because all of materials used are fully recyclable. It also offers clients the option to select the design & service features to create the smallest, lightest, and most cost efficient approach to match their shipping lane requirements.
"The TimeSaver72™ consists of an outer box, insulating material, and refrigerants," Anthony Alleva, Technical Services Manager at Cryopak, explains. "Each component has a set of options offering the ability for client's to specify their requirements based on environmental conditions, cost value and their company's preference on green initiatives while also keep the requirements of the specific application."
The EPS insulating material specified uses recycled pharmaceutical grade material ranging from 0 percent to 20 percent regrind content with no degradation of performance. Engineered Phase 5™ phase change material is used as the core refrigerant because it reduces the overall size and weight of the package while also increasing the range of performance time. The conditioning methods reduce energy requirements because of the fact that the PCM doesn't need to be pre-conditioned in a refrigerator or freezer, therefore, reducing the energy requirements to prepare the package.
The second-annual Greener Package Awards competition recognizes innovations in five categories that significantly reduce packaging's environmental footprint. The categories included; Food & Pharmaceutical Packaging, Personal Care/Cosmetics Packaging, Non-Food Primary Packaging, Secondary/Large-Format Packaging, Beyond the Package Award. An award was also given out for the Innovator of the Year.
According to Summit Publishing, sponsor of the event, the second annual Greener Package Awards competition welcomed nearly 100 entries. "This represents an incredible investment of resources by consumer packaged goods companies, suppliers, and individuals to move the packaging community toward greater sustainability," Summit Publishing wrote. "This year's winners also clearly demonstrate how sustainability provides a positive economic payback – in any economy."
You can learn more about the winning entries by visiting http://www.GreenerPackage.com or by reading the September issue of Packaging World. The winners will also be on display at the Showcase of Packaging Innovations® at PACK EXPO International 2010.
About The TCP Family of Companies
The TCP Family of Companies is a complete packaging integrity solutions provider servicing life science industries. The TCP Family consists of Cryopak, the leading manufacturer of cold chain related products and DDL, the leader in package, product and material testing validation for the medical device and biopharmaceutical industries. The TCP family handles your packaging projects with one paramount goal: help get your product to market faster while maintaining the integrity of your products.
###