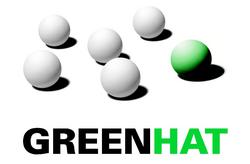 Automated Testing underpins IT Transformation by dramatically reducing the time to change business processes.
Hannover, Germany (PRWEB) March 1, 2010
Green Hat will be demonstrating how innovative testing technology enables IT Transformation for Software AG customers (Software AG Booth, Hall 4, A12). Combined with the experience and methodology of Software AG's Global Consulting Services, Green Hat's software integrates seamlessly with Software AG products to dramatically reduce customers' project implementation times.
Green Hat's testing software integrates directly with the webMethods suite and CentraSite to provide visibility, validation and ease of operations for project deployments, process changes and troubleshooting. Green Hat and Software AG also offer webMethods customers a cost-effective, low-risk migration path to webMethods version 8. Green Hat additionally integrates with SAP and other business-critical technologies to assure end-to-end testing of complex heterogeneous environments.
"Green Hat offers a compelling solution that provides ample feature depth and covers a wide range of technologies and protocols including industry specific standards. Ovum believes that Green Hat's product functionality in general, and code-free testing of a wide variety of environments in particular, will prove useful to all organizations that are struggling with development and managing change within their SOA and BPM deployments," said Michael Azoff, Principal Analyst, Ovum.
Automated testing is critical for SOA and BPM deployments, and Green Hat technology provides customers with test innovations for areas such as coverage reports, service reuse, governance and composite applications.
"Automated testing underpins IT Transformation," said Peter Cole, President and CTO, Green Hat. "Agile organizations need to remove very specific barriers to ensure their fast-changing business processes perform as expected. We make testing simple for customers, decreasing their implementation times and making their businesses better."
"IT Transformation allows organizations to truly align their IT with the needs of the business," said Ivo Totev, Member of the Executive Management Board of Software AG. "Green Hat's testing software works hand in hand with Software AG products to optimize our customers' business processes and IT architecture."
About Green Hat
Green Hat is a global testing technology leader with a Global 2000 customer base. Green Hat makes automated testing simple for complex systems relying on Web Services, messaging, SOA, ESB, BPM, CEP, governance and virtualization. Automate now. Make business better. Learn more at http://www.greenhat.com
About Software AG
Software AG has 40 years of global IT experience and over 3,600 employees serving customers in 70 countries. The company is headquartered in Germany and listed on the Frankfurt Stock Exchange (TecDAX, ISIN DE 0003304002 / SOW). Software AG posted total revenues of €721 million in 2008.
Contacts:
Green Hat:
Scott McDermott
Chief Marketing Officer
135-137 Aldersgate Street
London EC1A 4JA
UK
Tel: +44 (0) 20 7776 4712
Fax: +44 (0) 20 7776 4720
Scott.mcdermott(at)greenhat(dot)com
Software AG:
Norbert Eder
Vice President Corporate Communications
Uhlandstrasse 12
64297 Darmstadt
Germany
Tel: +49 6151 92-1146
Fax: +49 6151 92-1623
norbert.eder(at)softwareag(dot)com
http://www.softwareag.com
###