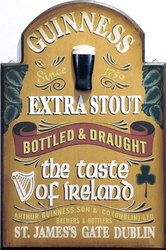 Lovely Day for a Guinness
(Vocus) July 30, 2010
People are entertaining more and more in their own home instead of going out to bars or clubs. As a result, many people are creating pubs in their homes to enhance the atmosphere of their entertainment rooms. To accessorize these pubs, Guinness Gear Online offers multiple items to accommodate this growing trend.
Guinness has been a pub favourite for over 250 years. It is the best selling drink in Ireland and North America is the fastest growing draught market. Brewed in more than 150 countries, over 10 million glasses of Guinness are sold every day. It's no wonder that Guinness Gear is among the favourites for accessorizing home pubs.
Signage is a favourite item among Guinness collectors. Guinness Gear offers various Guinness signs, clocks and mirrors. The most popular pieces are the Extra Stout Taste of Ireland Sign and the oval Extra Stout label sign. The Guinness Coat Rack Mirror is a great accessory for an entrance way as it offers four brass coat hooks and a rectangular mirror. The simple Guinness Harp sign adds a more subtle touch to the pub. The highly recognized Guinness Toucan symbol is available on the round "Lovely Day for a Guinness" sign, a rectangular 3D wall plaque, and a Round Neon Toucan Clock.
A home pub also requires glassware. The perfect pour of a pint of Guinness requires a tulip shaped pint glass. Many different designs are available including the Toucan, the Extra Stout Label, the Guinness harp and the St James Gate, home of the famous brew. Many are available in 2 packs and some even come in party packs with Guinness towels, beer mats and playing cards. There is also a gift bucket set available that includes four pint glasses with a bucket to keep the Guinness on ice until it's ready to be poured. For hot beverages, there are ceramic mugs available in red or black with the toucan logo.
Another vital addition to any home pub is a bottle opener. Guinness Gear offers key chain openers with Guinness bottles or Guinness caps, magnet openers in bottle cap shape with the classic Guinness logo or the Extra Stout and a brass bottle shaped opener. There are also classic style openers with a toucan or Guinness bottle. Another great bar accessory is the Black and Tan turtle, a must have for pouring the perfect glass of pale and dark beer together. The Guinness Pouring spoon will do the same thing.
Once the home pub is set up with these great Guinness collector's items, complete the atmosphere by wearing some Guinness. Guinness shirts are available for both men and women. Some of the most popular styles include the Guinness Gaelic Label shirt, Guinness wings shirt, and Guinness Black shirt with grey trim for the men and the Guinness Rainbow disco ball shirt and Nite Stud shirt for the ladies. Rugby and polo shirts are among top sellers with various colors and designs available.
Guinness hats are a favourite among collectors. There are many different styles available including four different bottle opener caps with a bottle opener built right into the bill, other fitted baseball style hats, military caps and the popular Ivy Cap. Knit caps and beanies are also available in the fall and winter. Complete the ensemble by accessorizing with Guinness belts, sunglasses, watches, socks, and wallets.
Serve guests Guinness truffles, fudge, and chocolate pints or if cooking a larger meal, try the Guinness marinade for red meat to add an extra stout flavour.
To enhance any home pub, check out http://www.GuinnessGearOnline.com for Guinness signage, glassware, rugby shirts, t-shirts, bottle opener caps, and much more.
###