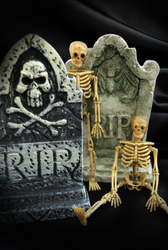 "Halloween is a huge opportunity to have fun, for kids and grown-ups alike," says Chris. "Just remember that while you're planning your decorations and graveyard, you'll need to keep safety in mind."
Los Angeles, CA (PRWEB) September 21, 2010
As Halloween's popularity grows among the adult set, parties and decorations are becoming more sophisticated, with animatronics, electronics, fog machines and more, according to IBISWorld, which saw a 4.4% growth in decor sales last year, despite the economic downtown.
What this interest translates to is that more and more adults are getting in on the spooky holiday by creating their own home displays. But that just-for-fun decorations display could turn into something a little more serious if home haunters aren't careful, warns Chris Molinar of Halloweenalliance.com.
"Halloween is a huge opportunity to have fun, for kids and grown-ups alike," says Chris. "Just remember that while you're planning your decorations and graveyard, you'll need to keep safety in mind."
That doesn't mean you have to settle for a dull display. There are plenty of ways to make your yard haunt downright scary, but inherently safe, according to Chris. His Halloween portal, Halloweenalliance.com, offers the following safety tips for a graveyard display:
1. Make sure you stake Halloween tombstones properly so they won't fall down and possibly trip up trick-or-treaters, particularly if your graveyard setup is to be a walk-through. It's easy to drill a hole (even a hand drill will do) in styrofoam tombstones; drill straight up into the tombstone about two inches, then place a wooden dowel into the hole. Sharpen the bottom end of the dowel if necessary. Make sure you leave about four inches of dowel below the stone so you can push it down securely into your lawn.
2. String only non-flammable lights on top of and in front of your tombstones, especially if they are made of a material that could burn (wood) or melt (styrofoam/polystyrene) and create a safety hazard.
3. Make sure electric cords are flat against the ground and secure them. You can use anchors, or if in a high traffic area, build a secure wooden step over them. Also – though it may seem to go without saying – use outdoor cords only. Even if you live in an area that experiences warm, dry weather in October, outdoor cords hold extra insulation against cold and dampness. Additionally, check all the cords before the big night to make sure there are no slits or knots along the lengths.
4. When lighting up your haunt, use battery-operated yard staked spotlights and hidden tea lights, says site executives. This minimizes your electric cords and tripping hazards. Tea lights are a favorite, because they are small and they flicker, creating spooky effects while also keeping the area lit. Place them low to shine up into your Halloween decorations.
5. Keep fog down to a dull roar. Fog machines are great, and add a spooky, misty theme to your yard haunt. But don't overpower trick-or-treaters or party guests with fake fog. The chemical that fog machines leave in the air can cause some sensitive people to experience discomfort or coughing. And too much fog may obscure your yard to the point that people can't safely walk through – and they won't see what creative decorations you have set up.
Now that you have safety under wraps, have fun creating a haunted graveyard that's tongue-in-cheek as well as scary, says Chris. Cut out Styrofoam with a utility knife and carve sayings on the front. From replicas of celebrities' places of rest to witty sayings ("Ben Dismembered" or "Space for Rent"), Halloween tombstone decorations are a must for any front yard haunt, according to Halloweenalliance.com executives.
Set up your Halloween tombstones at odd angles all over your yard and add inexpensive wire "fences", choosing low (no more than one-foot-high) sections of plastic lawn enclosure, easily found in any gardening store. Top off the look with a handful of dried moss, easily found at any department store and online costume, glued to the top and front of each tombstone, and you're done. Happy – and safe -- haunting!
HalloweenAlliance.com, online since 1999, has grown into a leading portal for home haunters. It includes various craft tutorials, recipes and articles on constructing floating heads, maximizing fog machines and tips for professional lighting techniques.
###