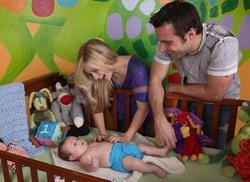 San Diego, CA (PRWEB) February 23, 2010
Happy Heinys, one of the largest manufacturers of modern reusable cloth diapers, is proud to be the #1 go to reusable diaper among today's Hollywood and New York celebrities.
"Teaching parents today just how easy our reusable cloth diapers are is not as easy feat but thanks to our rapidly growing pool of celebrity moms this feat is becoming much easier for us," states Linda Byerline, CEO of Happy Heinys. Byerline continues, "Many parents will see a celebrity mom with her baby and see this cute diaper along with a comment from the mom stating how much they love their Happy Heinys and that they are just as easy as a disposable and all of a sudden they are online looking up Happy Heinys, doing their own research and trying out the product on their own. The best part of all of this is that every celebrity that we work with is not paid to endorse our products. They truly use and believe in Happy Heinys and are willing to tell the world about it because our reusable diapers honestly work for them. We have had several opportunities to pay celebrities to endorse our products but we believe that parents want to know the truth, they want to know a celebrity is really using a product, it is THE diaper in the diaper bag/changing station and not just being paid to say they are."
Thanks to Jayneoni Moore's Boom Boom Room Events, Happy Heinys has become the go to diaper of many of today's celebrity moms. Jayneoni Moore is considered the Fairy God-Mother to the stars and she has only the best of the best baby products on hand for these events. Just a few of the recent celebrities they have been working with are:
Alaina Huffman (Stargate) recently sent this beautiful picture of 8 week old Charley sporting her fashionable pink hibiscus Happy Heinys one size diaper. Alaina Huffman states, "She (Charley) is enjoying the diapers and we are finding it an easy transition to cloth diapering! Who knew:) I love your diapers! Happy Hineys are amazing, super cute and make cloth diapering a no brainer! Thanks so much"
Marcy Rylan (Guiding Light) has just released the first picture of new son Jackson and he is sporting an Aqua colored Happy Heinys. Marcy Rylan recently stated, "I am encouraging everyone I know to use Happy Heinys. It makes me feel good to know that we are doing our part not only not to waste but to put our son in a diaper that is so good for him. I love love love happy heinys."
Constance Marie (George Lopez) with daughter Luna and Nicole Sullivan (Rita Rocks/MadTV) with son Beckett. Both babies are sporting their Happy Heinys, Luna in her "old school" Happy Heinys that she has been wearing since she was a newborn. Beckett is sporting his freshly changed red Happy Heiny one size. Both babies have been using Happy Heinys since they were born. Both babies are also wearing the "My Heiny is Happy is Yours" t-shirt"
Golden Globe nominee Penelope Ann Miller and mom to 9 month old Maria who is sporting her soft pink Happy Heinys diaper,loves the fact that they are super "soft and cushy" for Maria's little heiny."
Tisha Campbell-Martin (Rita Rocks/My Wife & Kids) has joined co-star Nicole Sullivan in using Happy Heinys. Martin stated, "I love how soft and cushy they make his behind. So soft and no diaper rashes ever in Happy Heinys."
Here we have sweet Abby as a newborn on the left and at almost 2 on the right. Abby has only had Happy Heinys on her bottom since the day she was born. Abby has traveled the world while wearing Happy Heinys proving that it is possible to use reusable diapers while traveling. Her parents John Fortson and Christie Lynn Smith(General Hospital) have both said, "using Happy Heinys is the easiest and simplest thing that we can do in order to protect the environment for our daughter and our future grandchildren."
Mayim Bialik (Secret Life of the American Teenager/Blossom) Has been known to use reusable cloth diapers on her 2 children. While at the Boom Boom Room she stated, "It's great that Happy Heinys one size will fit her big boy." Bialik continued, "I have tried some other "one sized" style reusable diapers and even though they claim to fit up to 35lbs they stopped fitting well before then. Happy Heinys has made it easy to continue using reusable diapers until Fred is completely out of diapers."
About the Boom Boom Room:
The Boom Boom Room is an exclusive event put on by Jayneoni Moore. Jayneoni, a regular on MTV, VH1's The Fabulous Life of Celebrity Kids, Entertainment Tonight, The Insider, MSNBC Hot List and CNN, is well known as a bonafide Kiddie-swag specialist for Hollywood celebrities. Jayneoni's signature Boom Boom Rooms are held at hush-hush Hollywood locations and showcase the must-have baby and children's products of the season.
About Happy Heinys:
Happy Heinys was first opened in Jan. 2002 after the premature birth of the third child of Linda Byerline. It was a true invention of necessity. Over the last 9 years Happy Heinys has become one of the largest manufactures of modern day reusable cloth diapers and one of the most popular cloth diapers in Hollywood and among the world's favorite celebrity babies as well as the #1 rated reusable cloth diaper on the internet.
For more information on Happy Heinys or to find a retailer near you please visit their website at: http://www.happyheinys.com or call 619-261-6850. Editors Note: Please contact Linda Byerline at 619-261-6850 or Linda(at)happyheinys(dot)com or lbyerline(at)gmail(dot)com for questions, high res. Pictures, or interviews.
Happy Heinys is the last remaining large reusable diaper manufacturer who has kept their entire production of products local, in their originating home town, utilizing local seamstresses, purchasing USA made materials. After 9 yrs Happy Heinys is still a family-owned and more importantly a family-operated local business.
###