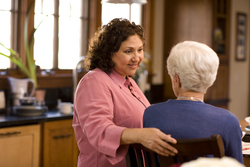 Oftentimes a third party coming into a tense family drama can actually help diffuse the situation
Omaha, NE (Vocus) July 13, 2010
It's a common dilemma for the family caregiver: seniors who insist on doing everything themselves, even when it's obvious they can't.
Caregivers often perform a juggling act between concern for their parents' independence and fears for their safety, according to family caregiving consultant Dr. Amy D'Aprix, who holds a Ph.D. and master's degree in social work and is author of From Surviving to Thriving: Transforming Your Caregiving Experience.
Overwhelming schedules can create stressful situations for both family caregivers and their older loved ones. "If you're a family caregiver, it's always helpful to talk about your senior's concerns and your fears. Tell a parent how the situation is impacting you. Tell Mom you're lying awake worrying about her. Chances are, she will say, 'O.K., if this worries you, I will make that change,' whether it's getting more help at home or agreeing to seek services elsewhere."
Providing tools and strategies to help families cope with the ever-changing landscape of their seniors' needs is why the Home Instead Senior Care network® developed a program for home caregivers called Caring for Your Parents: Education for the Family Caregiver.
This family caregiver support series addresses senior resistance to care and features a variety of topics such as choosing an in-home care provider, the signs of aging, long distance caregiving and communicating with aging parents.
Sometimes you may need to get a third-party professional involved – someone not as invested in these emotionally charged issues – to assess the situation. This can be a doctor, social worker or geriatric care manager. "Oftentimes a third party coming into a tense family drama can actually help diffuse the situation," said Paul Hogan, co-founder and CEO of the Home Instead Senior Care network. "A professional brings an objective view to the table."
Resources also are important because family caregivers may lack the communication skills needed to talk with their aging loved ones and the practical knowledge about the options and services that are available. And that's where the free family caregiver support series can be a benefit for families as well as senior care professionals.
"Without additional resources and education, the desire to be a perfect family caregiver leads to burnout," D'Aprix said. "Perspective can come from friends, support groups and professional and informal support networks.
"Ultimately, unless a senior has dementia, he or she has a right to make the final decision about care, even if you – the family caregiver – don't agree. The flip side of that is, as a family caregiver, you have the right to suggest limits on behaviours that you think are risky."
Sometimes family caregivers won't agree with the decisions their parents are making, D'Aprix noted. "And, if that senior is of sound mind, that's O.K. Likewise, children have a right not to be there 24 hours a day looking after their parents."
This leads to one of the best strategies that a family caregiver can employ in trying to convince their loved one to be willing to accept help: "I know you want to remain independent. That's why I think a little extra help at home will keep you safe and able to remain at home for as long as possible."
For more information about the family caregiver support series and other resources for home caregivers, visit the CaregiverStress.com Web site.
###