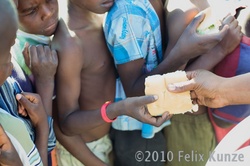 Haiti was said to have approximately 380,000 orphans before the January 12th earthquake.
Philadelphia, PA (PRWEB) February 24, 2010
Isabella Garcia, former local resident and entrepreneur, will be leaving for Haiti on March 4th to help out Haitian Orphans devastated by the recent earthquake.
Ms. Garcia will be holding an event at the Field House on Wednesday night, March 3rd. She has teamed up with Help for Orphans International, a non-profit organization which has assisted orphanages in India, South America, Uganda, and Kenya.
"After seeing the horrific results of the earthquake, I spoke with Sarah Ehrlich, a personal friend and founder of Help for Orphans International, who recently returned from Haiti. I was compelled to help after seeing the wonderful work she and her group have done to help the kids down there," Ms. Garcia commented. "I'm paying my own way down there, so that all donations from the event will go directly to helping the Haitian orphans." Haiti was said to have approximately 380,000 orphans before the January 12th earthquake. It has been feared that this number has doubled since then. Celebrities, such as UN Goodwill Ambassador Angelina Jolie, Brad Pitt, and Haitian native Wyclef Jean has recently brought the plight of these Haitian orphans to the public's attention.
The event will feature DJ Jack Muler, live music by Louis Brice, a SVET fashion show by Aleksandra, dance performances, $3-$5 drink & menu specials, prize giveaways, and more. American Mythology Productions will also be filming the crowd singing along to "We Are the World 25 for Haiti," which is Quincy Jones' and Lionel Richie's recent remake of the 1985 "We Are the World." The $10 cover charge will benefit Help for Orphans Haiti Relief.
Everyone is invited to come and support this charitable event. The Field House is located on 1150 Filbert Street, Philadelphia, PA 19107. If you would like more information on the event, please go to Haiti Relief Party on Facebook or Philly2night.
Ms. Garcia would also like to acknowledge Raison D'etre Relationship Marketing, Field House, Pro Systems, Society Hill Dance Academy, American Mythology Productions, Felix Kunze Photography, Brian Griffiths Photography, Jack Muler, Aleksandra Svetlichnaya, Louis Brice and all the dancers, models, and volunteers for their gracious help in putting this event together.
Photos of the event will be available upon request.
# # #