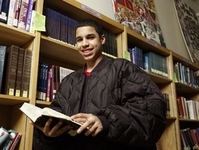 the value of the leadership initiative goes beyond merely bringing students together to develop leadership skills
Long Island City, NY (Vocus) April 27, 2010
In anticipation of Early College Week and after months of preparation, the Middle College National Consortium (MCNC) proudly announces that students from across the country are putting the final touches on their projects for MCNC's annual Student Leadership Initiative. To be held from April 28 to May 1, the Student Leadership Initiative will focus on Water Sustainability: How We Live With Our Rivers. Greenville, South Carolina's partner Middle College High Schools, Greenville Technical Charter High School, Greer Middle College High School and Brashier Middle College Charter High School, in association with Greenville Technical College, are proud to be this year's hosts.
Provocative projects on the subject include:
*Fundraising to support Water of Life, an organization providing clean drinking water to countries of Africa
*A mini-documentary outlining the impact of bodies of water, such as rivers, wetlands and tributaries, on our every-day living, as well as, community, social and cultural life
*With the expected population growth in Denver, Colorado looming, a research study dealing with local efforts to conserve water
*Research comparing two bodies of water in Brooklyn, one on the Superfund Clean-up list and the other a lake in Prospect Park, to demonstrate how it is possible to maintain clean water in an urban environment
*Working with the Buffalo-Niagara River Keepers to clean up the shoreline of Cazenovia Creek to ensure clean drinking water from Lake Erie
Dr. Cecilia Cunningham, Founder and Director of the MCNC, states that "the value of the leadership initiative goes beyond merely bringing students together to develop leadership skills". "It gives participants the opportunity to explore social, environmental and cultural issues". "They do this as they discover skills they never realized they had, demonstrate initiative and develop critical thinking." "Students and teachers set high expectations for themselves and then strive to meet them. Entire schools often become involved in the projects, gaining research skills and eventually getting more involved in their communities."
The Middle College National Consortium, headquartered in New York City, is a leader in the movement to establish and sustain dual enrollment, high school and college, as a viable and necessary educational model. Its mission is to develop small schools in which high school students, especially those who have been previously underserved by their former schools, can earn both a high school diploma and either an Associate's degree or transferable college credits upon graduation.
To learn more about the Middle College National Consortium, visit us at (http://www.mcnc.us/) for a comprehensive overview of the history, design principles, current work and achievements.
Contact information:
Tony Hoffmann
Middle College National Consortium
http://mcnc.us
718-361-1981
thoffmann(at)mcnc(dot)us
###