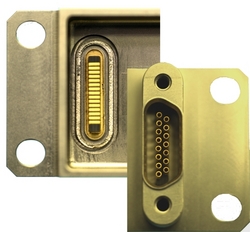 This new connector option delivers high levels of mechanical performance and superior wire bonding density
Wenatchee, WA (PRWEB) November 22, 2010
SOURIAU PA&E has brought High Temperature Co-Fired Ceramic (HTCC) technology to its popular line of Micro-D connectors, providing design engineers with a new connector option that delivers high levels of mechanical performance and superior wire bonding density.
HTCC technology is typically used in high-reliability applications, such as defense/aerospace electronics, infrared sensors and optoelectronics. SOURIAU PA&E's newest Micro-D connector's external interface resembles a standard rectangular connector, with rows of sockets providing an electrical connection. In this new, patent-pending design, however, the external sockets are mated to a specially engineered HTCC board (that integrates metalized circuit patterns), rather than traditional pins. This approach can save space and reduce wire-bonding complexity while still maintaining SOURIAU PA&E's high standards for harsh-environment reliability and electrical performance.
These new HTCC Micro-D connectors are MIL-PRF-83513 interface compliant and designed to be laser welded into aluminum, titanium or iron/nickel alloy electronic housings. They provide greater than 5,000 megohms of insulation resistance at 500 VDC and exhibit no evidence of dielectric withstanding voltage breakdown when tested in accordance with MIL-STD-1344, Method 3003. These new Micro-D connectors have a leak rate of less than 1X10-9 cc/second of helium at one atmospheric differential pressure. SOURIAU PA&E's HTCC Micro-D connectors can be configured with 9, 15, 21, 25, 31 and 37 pin counts and will operate reliably at temperatures from -65º C to 200º C.
For more information about this new HTCC Micro-D connector from SOURIAU PA&E, or to learn more about the company's other interconnect products, EMI filters, and integrated electronic packaging capabilities, contact SOURIAU PA&E at 509-664-8000 or visit us at http://www.pacaero.com.
SOURIAU PA&E, Inc. is an integrated manufacturing company, specializing in technically demanding ceramic and metal components and assemblies, hermetic connectors and advanced hermetic electronic packaging for global leaders in the defense, space, medical and commercial industries. SOURIAU PA&E is ISO 9001:2008/AS9100 Rev B certified and NADCAP compliant.
SOURIAU PA&E – 434 Olds Station Road – Wenatchee, WA – 98801 – Tel: 509-664-8000 – Fax: 509-664-6868
###