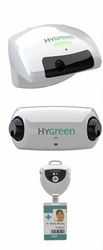 Using HyGreen®, a healthcare facility will have a tool to help reduce infection rates and lower hospital costs
Gainesville, FL (Vocus) July 16, 2010
Xhale Innovations (XI) announced today that it will demonstrate its hand hygiene system, HyGreen®, at the American Hospital Association Leadership Summit held July 22 – 24, 2010 in San Diego, CA. The Summit highlights the most effective and efficient approaches for hospitals and health systems to integrate care and improve financial and clinical performance along the continuum of care.
Studies show that healthcare associated infections take the lives of nearly 270 people in the U.S. every day and add between $30 - 50 billion to U.S. healthcare costs. The Centers for Disease Control and Prevention (CDC) reports that many of these infections are caused by the lack of hand washing before and after each patient contact. The HyGreen® Hand Hygiene System addresses this problem by reminding healthcare workers to wash their hands and by recording all hand washing events and patient-staff interactions in the hospital.
XI will be demonstrating its real-time hand hygiene compliance system at booth #416. "Using HyGreen®, a healthcare facility will have a tool to help reduce infection rates and lower hospital costs," states XI CEO, Richard Allen. "HyGreen® was designed to reflect the recommended hand hygiene guidelines from leading industry experts, including the Association for Professionals in Infection Control and Epidemiology (APIC), the Society for Healthcare Epidemiology of America (SHEA), the Centers for Disease Control and Prevention (CDC) and the Joint Commission."
HyGreen® was recently awarded the gold "Medical Design Excellence Award" at the 2010 Medical Device and Diagnostic Industry's Annual Conference. This award comes on the heels of the December 2009 award for "Best of What's New" from Popular Science.
Xhale Innovations is holding a Webinar on the HyGreen® Hand Hygiene System on Wednesday, July 28th, 2010 at 1:30pm. Log on to http://www.gohygreen.com or contact us at info (at) gohygreen (dot) com for more information.
To see the HyGreen® Hand Hygiene System in action, visit booth #416 at the AHA Leadership Summit.
###