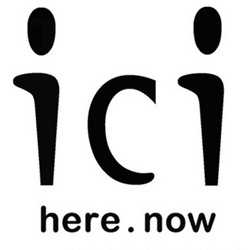 Arts & culture organizations face tremendous challenges in keeping up with wave after wave of technology. This first ici Mobile App Award will offer the winning organization a unique and powerful means to reach out to mobile audiences.
Philadelphia, PA (PRWEB) July 23, 2010
icihere.com, developer of the ici mobile app, announces the first of a series of regional competitions for nonprofit cultural organizations. The ici Mobile App Award is the first and only award that directly supports arts and culture with a custom iPhone app for the winning organization.
Valued at $50,000, the custom ici app and one year of support will enable the winning cultural organization to offer a free iPhone mobile app with location-aware navigational features, branded with the organization's name and graphic identity. Being rolled out in regional stages, the first award will be to an organization in the Mid-Atlantic region, entries are being accepted between July 22 and October 31, 2010.
Winner will be determined by anonymous online public vote. Registration is not required to vote. Voting ends on October 31, 2010.
icihere.com Founder and CEO Ken Kay, a veteran software developer and angel investor, recognizes that mobile technology holds particular promise for arts and cultural organizations, yet these organizations have limited resources for developing their own tools and applications.
"The ici mobile app offers an opportunity for cultural organizations to redefine and enhance their programming and constituent relationships, and especially to connect with young, mobile audiences."
ici also continues to support nonprofit cultural organizations by providing exclusive channels within the ici app, at no charge. Recent projects have included mobile guides to Philagrafika 2010, the National Association for Ceramic Education national conference, and Philadelphia Open Studio Tours. Originally offered to the public as a paid app with a percentage of sales going to the nonprofit organizations represented, as of July 20, 2010 ici is now a FREE app.
The ici Mobile App Award is an even more ambitious commitment to arts and culture. This award offers the selected organization a stand-alone app, branded with their identity and powered by the ici technology.
Any Mid-Atlantic (defined as Delaware, Maryland, Pennsylvania, New Jersey, Washington, DC) based nonprofit cultural organization is eligible for the ici mobile app award. The winning organization will be announced by November 2, 2010; the app publication will be approximately two months from date of announcement (estimated time, which may vary based upon the scope and size of the winning organization's app). Organizations not selected may qualify to receive an exclusive channel within ici.
For more information and guidelines, visit: http://www.icihere.com
About icihere.com:
icihere.com is a software startup launched by Ken Kay. Kay is a successful software entrepreneur and angel investor. He founded and managed ebudgets.com, a budgeting software company, until 2001 when it was bought by Microsoft. Kay is also the founder and former chairman of Jumpstart New Jersey Angel Network which is the leading technology angel investor network in New Jersey.
The ici app, which is available on the iTunes store (search term "icihere") and on the Android, is a new breed of application software designed for mobile content publishing. The ici platform enables users to upload and publish information for viewing on the iPhone/iPod Touch/iPad or Android devices. With built in location awareness and mapping, ici is an ideal platform for creating mobile guides for events, travel, and publishing.
###