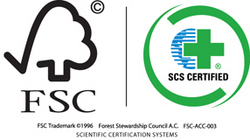 This certificate provides assurance for the people of Indiana that the state's forest resources are managed responsibly and will be protected for future Hoosiers
Emeryville, CA (Vocus) April 1, 2010
In a decision expected to support more than 6,000 Indiana jobs, Scientific Certification Systems today announced Forest Stewardship Council (FSC) forest management certification for the State of Indiana Department of Natural Resources (DNR). The certificate covers 528,332 acres of Indiana forests— almost 10,000 acres of which are considered high conservation value forests— and 7,800 landowners.
Forests cover almost 20 percent of Indiana. Indiana currently has 4,700,000 acres of forestland, 84 percent of which is privately owned. "This certificate provides assurance for the people of Indiana that the state's forest resources are managed responsibly and will be protected for future Hoosiers," said John Seifert, Indiana State Forester. "And because each 1,000 acres of timberland in Indiana directly supports 12 forest-based manufacturing jobs, certification ensures those jobs will enhance the green economy for years to come."
"This is an outstanding move toward local economic development," said Dr. Robert Hrubes, Senior Vice President at Scientific Certification Systems. "When times are tough, the land provides. Even beyond recreation, tourism, and other outdoor activities, FSC certification means Indiana foresters are ready to enter a growing green economy."
"Green building continues to be a bright spot in a troubled construction industry," continued Dr. Hrubes, who holds a doctorate in wildland resource sciences and master's degrees in economics and resource systems management. "Responsible forestry supports jobs in the forest and beyond, including foresters, loggers, sawmills, craftspeople, builders and more. I am heartened to see Indiana take this step to confirm its investment in its forests and people."
Indiana DNR manages the group forest management certification, number SCS-FM/COC-000123N, an umbrella under which small landowners operate. Approximately 7,800 FSC-certified forest owners in Indiana are now able to supply products to customers seeking environmentally responsible products bearing the FSC trademark.
Indiana DNR has also earned the first state-administered group chain of custody certificate (SCS-COC-002041) for 39 small sawmills and logging businesses which process the harvested wood from certified forests. Timber harvesting is primarily accomplished by small, independent logging companies employing fewer than 20 people. The FSC label provides a market-driven boost to these small business owners and their employees as they supply wood for green products and green building.
About Indiana Department of Natural Resources http://www.in.gov/dnr/4934.htm
Scientific Certification Systems (SCS) is a global leader in independent of environmental, sustainability, stewardship, food quality, food safety and food purity certification. For more than 25 years, SCS has developed internationally recognized standards and certification programs in pursuit of the highest level of environmental performance and social accountability. SCS recently issued its 3000th Forest Stewardship Council (FSC) Chain of Custody certificate. http://www.SCScertified.com/forestry
The Forest Stewardship Council is an independent, non-governmental, not-for-profit organization established to promote the responsible management of the world's forests. Established in 1993 as a response to concerns over global deforestation, FSC is widely regarded as one of the most important initiatives of the last decade to promote responsible forest management worldwide. http://www.fsc-us.org.
###