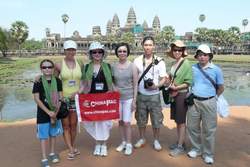 Vancouver, BC (Vocus) May 31, 2010
Travellers now have more choice and flexibility with Chinapac International's new 16-day tour to Indochina. Exclusive to Chinapac, this Indochina tour is offered with weekly Friday departures so travellers can choose a package that fits their schedule.
Featuring the lowest price in Canada, the 16-day tour of Indochina explores the mysteries and beauty of Vietnam, Cambodia and Laos. Travellers will see the influences of French culture and architecture in Vientiane, experience the Cu Chi tunnels and beautiful China Beach, and relax on the Mekong River. Travellers will also visit Angkor Watt in Phnom Penh. This 12th century temple is world famous for its beauty and splendour.
Jenny Soares, president of Chinapac International, states, "I have noticed a trend and growing demand from our returning clients who are looking for more adventurous tours. They are seeking out new and exotic locales coupled with excellent value. Our Indochina tours offers both of these expectations. Furthermore, these tours offer a striking contrast to our well known China tours which we have been offering for the past 25 years. The response to these new tours has been quite favorable. Earlier this month I was in Cambodia and Vietnam, with my daughter, granddaughter, and several travel agents and we all had an enjoyable time. I expect to see this market to be an emerging destination amongst travelers."
Departing every Friday for parties of two or more, Indochina tour packages begin at $3,879 or $2,619 for land only. Pricing is valid until December 2010, and travellers can save $100 per person by booking by June 30, 2010. Packages include an English-speaking guide and either four- or five-star accommodation throughout.
ChinaPac International specializes in travel service to China and the Orient. ChinaPac is proud to celebrate 25 successful years in the travel industry as the premier travel package tour operator to the People's Republic of China and South East Asia.
For more information, visit chinapac.com.
# # #