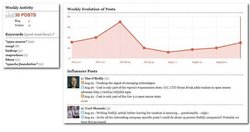 Our Influencer Platform is the most powerful platform for identifying, monitoring and engaging online influencers.  The new self-serve subscription model enables firms of any size to take advantage of TRAACKR's platform.
Cambridge, MA (PRWEB) September 24, 2010
TRAACKR, the pioneer in identifying and ranking online influencers, today announced a major technology advancement, the Influencer Platform. The platform is TRAACKR's first self-serve, subscription service model, boasting major new features:
INFLUENCER MONITORS
For those who are tired of monitoring every online mention of their brand and manually trying to understand which ones matter, TRAACKR's Influencer Monitors are the definitive solution.
TRAACKR's Influencer Monitors track the influencers on each of your A-LISTS and allow you to discover and measure their mentions of your brand over time. On a weekly basis, you can see how many mentions your A-LIST generated; which influencers are talking about you (and which are not); what they've said; and where they've posted. Over time, your Influencer Monitor will track mentions of your brand and display it on a main heartbeat chart.
DYNAMIC A-LISTS
In order to match the ever-changing and evolving influencer landscape, all TRAACKR A-LISTS are now dynamic and fluid.
"The world of online conversations and influence is very dynamic and constantly evolving," VP of Marketing and Business Development, Derek Skaletsky said. "With our dynamic lists, our clients will always be on top of those who have the greatest impact on the success of their campaigns or business."
With these dynamic lists, clients will stay up-to-date on their campaign with updated scores, adjusted influencer rankings, new influencers and refreshed content every week.
If you would like to learn how you can get started with TRAACKR and uncover those online contributors which matter most to you and your business, click here to schedule a demo.
TRAACKR
Founded in 2006, Traackr is the leading platform for finding, ranking and tracking online influencers. With the web's influence growing greater every day, it is essential to find those individuals who are driving opinions and decisions. Traackr's unique technology allows communications professionals to uncover and track these leading voices in any topic, market or online conversation.
##