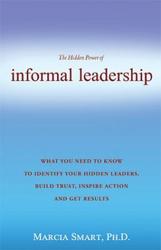 My interest in what goes on in the subculture of groups and organizations has led me to study the field of informal leadership extensively
Longwood, FL (Vocus) October 20, 2010
With many Fortune 1000 companies restructuring and downsizing, as well as ongoing economic setbacks facing state and local governments, leaders are desperately looking for innovative ways to maximize resources. That is why African-American author Marcia Smart, Ph.D., has penned The Hidden Power of Informal Leadership. This groundbreaking book, published by Xulon Press, pioneers a newly evolving leadership approach for 21st century management, and is geared toward leaders who are looking for creative ways to improve team performance.
What is Informal Leadership?
Informal Leadership provides a short and effective route to mobilize people and produce outstanding results. It also provides fresh insights on how to inspire Informal Leaders and leverage their strengths to achieve results way beyond what is expected.
Readers of The Hidden Power of Informal Leadership will discover who informal leaders are and what drives them. Employers will learn how to increase their organizations success by tapping into the hidden talents and skills of their employees to: enhance performance and innovation; stay ahead of the game; and make more impactful changes and decisions.
With more than 25 years of experience in corporate and business leadership, Dr. Smart says she has always been fascinated by the company behind the formal organizational charts, the people who really get the jobs done in these organizations. "My interest in what goes on in the subculture of groups and organizations has led me to study the field of informal leadership extensively," says Dr. Smart.
Xulon Press, a division of Salem Communications, is the world's largest Christian publisher, with more than 8,000 titles published to date. Retailers may order The Hidden Power of Informal Leadership through Ingram Book Company and/or Spring Arbor Book Distributors. The Hidden Power of Informal Leadership is also available online through xulonpress.com/bookstore, amazon.com, and barnesandnoble.com. ($14.99, paperback, ISBN 978-1-60957-673-8; $22.99, hardcover, ISBN 978-1-60957-674-5).
About Dr. Marcia Smart
Marcia Smart, Ph.D., is a Leadership Strategist and Inspirational Speaker with a doctorate in Adult Development, Organizational Learning and Leadership and a Master's in Business Administration. Dr. Smart's diverse clients include Fortune 500 companies, professional associations, universities, faith-based organizations and nonprofits.
###