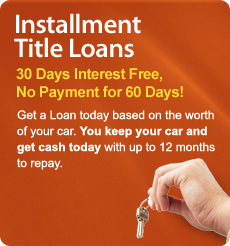 With no interest for the first 30 days, and no payment for the first 60 days, add to that 12 months to repay and you can't beat these loans.
Orem, UT (PRWEB) October 4, 2010
To add to their already wide range of short-term financial services, Check City is now announcing the release of their latest service, Installment Title Loans, to currently be offered to all Utah residents.
To celebrate the release of their new service, for a limited time, Check City is offering their Installment Title Loan service with no interest for the first 30 days, and no payment for the first 60 days! Customers are encouraged to take advantage of this great promotional deal now because this kind of a deal will not last for long.
For almost 24 years, Check City has been dedicated to making it possible for their guests to get the money they need quickly, easily, and affordably. With the new Installment Title Loan service, Check City is now also offering to their guests a way to make their repayments even more flexible and affordable than ever before.
Getting the Installment Title Loan is just as easy as getting one of their Title Loans; all guests need to do is fill out a quick application and bring it along with their vehicle, Utah title, proof of income, proof of registration, and photo ID to one of their convenient Utah Check City locations. Those who would like to obtain a loan over $2,000 will also need to bring proof of address, a spare key, and proof of insurance in addition to the previous items. Check City can get their guest approved quickly and on their way with their vehicle and cash in hand, and almost always without a credit check.
With an Installment Title Loan, customers receive a 12 month loan with 26 bi-weekly payments. The interest is pro-rated for the actual loan amount and there is no pre-payment penalty.
More information about Check City's new Installment Title Loans along with the application for the loan can be found by visiting their Installment Title Loan service web page or by visiting one of their Utah Check City store locations.
Offering a variety of services Check City Money Centers are predominately located in Utah and Nevada, however has locations spread throughout many different locations within the nation, and has now made their services accessible to countless more with their online services. Check City has not only built a recognizable reputation for being a lending leader in the short-term financial industry, but they have also become greatly acknowledged for their generous support to both local and distant causes that help aid in the welfare of humanity.
For a complete listing of the financial services offered by Check City, including their Payday Loan service with the opportunity to get the money you need, when you need it instead payday. For more information visit their website CheckCity.com.
# # #