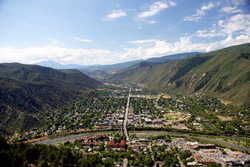 Living in Colorado is always an adventure
Glenwood Springs, CO (Vocus) March 12, 2010
Smoothing out the bump in the road left by Mother Nature on Monday, March 8 was no easy task for Colorado Department of Transportation (CDOT) employees, but after extensive efforts the roadway through scenic Glenwood Canyon is open for travelers headed west on I-70 to Glenwood Springs for their Spring break adventures. As of 3:30 PM on Thursday, March 11, one lane is open in both directions.
Alternate driving routes and Amtrak kept Glenwood Springs accessible despite the Glenwood Canyon closure but like travelers heading west to Glenwood Springs, locals are happy to see the path to a great Spring break has been cleared. "Living in Colorado is always an adventure," said Dylan Lewis, Sales and Marketing Manager for Sunlight Mountain Resort, "but now skiers and riders can get to Sunlight Mountain Resort without the hassle of extra driving for their own adventure on the slopes."
Ann Denney, Director of Sales and Marketing for the Glenwood Hot Springs, concurs, "Though the rockslide in Glenwood Canyon put a crimp in people's plans, we didn't see many cancellations as a result. We appreciate the fact that several guests drove many miles out of their way to keep their reservations with us. For those who were waiting to book their vacation until Glenwood Canyon reopened, come on over!"
Glenwood Caverns Adventure Park owner and avid caver, Steve Beckley is amazed at the power of nature and the determination of humans. "Nature is awe-inspiring. Even though it sometimes makes us change our plans and inconveniences us, we always find a way to make the impossible work." Beckley should know, he has wedged himself into impossibly small spaces on his own adventure of discovering and developing one of the largest cave networks in Colorado, bringing to Glenwood Springs a park filled with thrill rides, attractions, and a 4-dimensional theater, all via a gondola ride up Iron Mountain.
While safe travel through Glenwood Canyon to Glenwood Springs has resumed and is faster than by any other route, travelers should plan for some delays. For updates, visitors can check http://www.visitglenwood.com/I-70-update.The Glenwood Springs Chamber Resort Association advises drivers to relax, enjoy the scenery and bring along some extra drinks and munchies. Of course, feel free to wave enthusiastically to the CDOT workers who cleared the road for everyone headed for Spring break adventures in Glenwood Springs.
To book a vacation package, go to http://www.visitglenwood.com/packages
About Glenwood Springs
Glenwood Springs is located between Aspen and Vail, 165 miles west of Denver or 90 miles east of Grand Junction on Interstate 70 off exit 116. For more information about Glenwood Springs, Colorado, call 970-945-6589 or go to http://www.visitglenwood.com/. For lodging reservations, call 888 4 GLENWOOD (888-445-3696). A complete press kit and press releases are available at http://www.visitglenwood.com/press-kit and http://www.visitglenwood.com/press-releases.
Media Contacts:
Kate Collins, Vice President of Tourism Marketing
Glenwood Springs Chamber Resort Association
970-945-6589 ext. 105
kate (at) glenwoodchamber (dot) com
or
Vicky Nash, Public Relations Representative
Resort Trends, Inc. – Tourism & Resort Communications
970-948-4923
vicky (at) resorttrends (dot) com
# # #