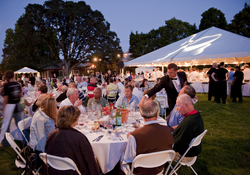 One of the most enjoyable wine weekends in the world!
(PRWEB) March 10, 2010
Over 60 premier Pinot noir producers from Burgundy, Oregon, California, New Zealand, Australia, Austria, Alsace and Italy will gather in McMinnville, Oregon the weekend of July 23-25, 2010, for what New York Times wine writer Eric Asimov describes as "one of those rare wine gatherings that works on every level."
The 24th Annual International Pinot Noir Celebration (IPNC) will unite wine drinkers and epicureans in Oregon wine country for three days of exploring the world's finest Pinots, savoring unforgettable meals, and learning and celebrating with luminaries of the food and wine world. Ray Isle, Wine Editor of Food & Wine magazine, James Beard Award nominee and acclaimed wine columnist, will be the Master of Ceremonies.
The IPNC will dedicate the highly anticipated keynote seminar to the topic of food and wine pairing. Entitled "WINE IS FOOD: The Art of Pairing Pinot," the seminar will be divided into two sessions. In the first, Ray Isle will lead a tasting and discussion of four Pinot noirs made by Dan Goldfield (Dutton Goldfield, California), Lynnette Hudson (Pegasus Bay, New Zealand), Olivier Leriche (Domaine de l'Arlot, Burgundy) and Mark Vlossak (St. Innocent, Oregon). Winemaker panelists will discuss vintages and vinification, as well as share commentary on the relationship between wine and food as side-by-side partners on the table.
In the second session, Perfect Pairings author Evan Goldstein MS, will be joined by four Northwest chefs: Renée Erickson (Boat Street Café, Seattle), Kevin Gibson (Evoe, Portland), Jason Stoller Smith (The Dundee Bistro, Dundee) and Cathy Whims (Nostrana, Portland). Each chef will create a pairing for one of the four Pinots using a different cut of lamb. Guests will learn the process a chef goes through in identifying the style and characteristics of a wine to create a complementary recipe that allows both elements to shine.
Praised as a showcase for the northwest's acclaimed farm-to-table cuisine, the IPNC will host 50 chefs from the region's most revered restaurants. For Friday's Grand Dinner, young gun chefs Jason Barwikowski and Elias Cairo (Olympic Provisions, Portland), Matt Dillon (The Corson Building, Seattle), Gabriel Rucker (Le Pigeon, Portland) and Cheryl Wakerhauser (Pix Pâtisserie, Portland) will create inspired courses for guests to enjoy alongside library wines poured by IPNC sommeliers. Saturday night's famed Northwest Salmon Bake will feature chefs Paul Bachand (Farm to Fork, Dundee), Benjamin Dyer, Jason Owens and David Kreifels (Laurelhurst Market, Portland) and Jason Stoller Smith (The Dundee Bistro, Dundee).
In addition to world-class wines and memorable meals, guests will indulge in an exciting array of activities including a tasting tour of Oregon's AVAs, an engaging discussion with wine writers, and an intimate vineyard tour and winery lunch at one of 14 Willamette Valley winery destinations. Guests also will enjoy several activities highlighting handcrafted elements of the food and wine trade such as barrel shaping and meat curing.
Along with the speakers and chefs, it is the relaxing and festive atmosphere that sets the IPNC apart from all other wine events. Whether tasting Grand Cru Burgundy or walking through vineyards with the grower who planted them, guests find themselves unwinding in picturesque Oregon for what wine legend Jancis Robinson regards as "one of the most enjoyable wine weekends in the world."
Tickets for the full event, held on July 23 – 25, include all seminars, tastings, tours, activities, two full days of meals and the Sunday Sparkling Brunch. Tickets are $975 and sold on a first come, first served basis. For details, contact the IPNC at 800/775-IPNC, or http://www.ipnc.org.
# # #