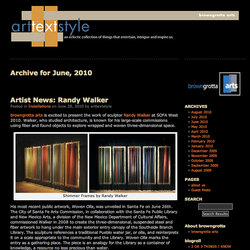 We are delighted to have Kim Schuefftan as our next Guest Blogger
Wilton, CT (Vocus) August 30, 2010
In recent months, browngrotta arts has expanded its online presence with the addition of a blog, arttextstyle.wordpress.com and a page on Facebook.
With arttextstyle.wordpress.com, browngrotta arts offers a broader selection of informative items about art and sculpture, including art textiles and fiber sculpture, and related subjects, including fashion, design, film and books.
"On our website, we compile information on the artists whose work we represent. In arttextstyle.wordpress.com we also cover general art news, commentary and other art-related items that capture our interest," says Rhonda Brown, co-curator at browngrotta arts and editor of the blog. "We feature regular posts by guest bloggers, and textile news feeds, exhibition reviews, workshop listings, press recaps, book and movie recommendations, collecting tips, commentary and more appear on various days in between."
Beginning Sunday, September 4, 2010, arttextstyle.wordpress.com will feature a series of weekly guest posts by Kim Schuefften. Schuefften has lived in Japan since 1963. A former editor at Kodansha International, he worked on some 100 books there including The Unknown Craftsman (an English-language guide to the mingei aesthetic); Hamada: Potter, Zen Painting; The World of Japanese Ceramics; Shibori: The Inventive Art of Japanese Shaped-Resist Dyeing and Japanese Cooking: A Simple Art. Schuefften is currently a freelance editor and writer.  The topics of Schueffetan's posts will be wide ranging, including popular public art, viewing art in nontraditional settings and clay digging in Japan.
"We are delighted to have Kim Schuefftan as our next Guest Blogger," says Tom Grotta, president of browngrotta arts. "Schuefftan is an exceptional writer and an insightful observer of Asian culture and contemporary arts." He follows artist and curator Nancy Moore Bess, browngrotta arts' first Guest Blogger. Bess's work has been exhibited in museums in the US and abroad. She is the author of Bamboo in Japan, which the Japan Times called "a compendium of information that is not likely to be soon duplicated."
Fans can also view browngrotta arts' Facebook page where artist photos, event updates and news items are posted. In the past several months, readers were alerted to Steven Colbert's interview about tapestry with Thomas Campbell, new director of the Metropolitan Museum of Art, updated on Mo Rocca's feud with the knitting community, informed about environmental art resources and updated on events that surrounded browngrotta arts' The10th Wave III exhibition.
About browngrotta arts
browngrotta arts represents the work of more than 90 international contemporary textile and fiber artists. The firm has published 37 art catalogs and placed art work in dozens of private and corporate collections in the US and abroad, as well as in the permanent collections of the Metropolitan Museum of Art, Museum of Arts and Design, the Art Institute of Chicago, the St. Louis Museum of Art, the Philadelphia Museum of Art, the Renwick Gallery of the Smithsonian Museum.
High resolution images available on request.
# # #