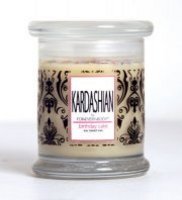 Our new Birthday Cake candle is absolutely to die for and it will leave your house smelling amazing
Los Angeles, CA & Salt Lake City, UT (Vocus) February 12, 2010
Today, Becky J. Anderson, Founder of For Every Body, announced the launch of the first candle in their new line of Kardashian candles manufactured exclusively for Kim, Khloe, and Kourtney Kardashian. The first candle now available for purchase online is the Birthday Cake scented candle, it is soy-based wax, eco friendly, burns for 60 hours providing an unmatched fragrance value for any home, comes complete with the For Every Body Signature birthday sprinkle topping, and is priced competitively for sale online at $14.
"Our new Birthday Cake candle is absolutely to die for and it will leave your house smelling amazing," said Khloe Kardashian. "To check the first in our new series of candle and see a preview of the gorgeous box sets we have coming please look here Kardashian Candles by For Every Body."
For Every Body, the nation's largest woman-owned candle manufacturing company and their design staff have coordinated personally with Kim, Khloe and Kourtney Kardashian and their teams, to design the packaging and choose the scents for the new line of KARDASHIAN candles. The first release in the new KARDASHIAN line of candles and gel sprays is the Birthday Cake Candle, which is available online at for $14. The next release will be available this spring, for a preview, please see http://www.foreverybody.com/kardashian.
"For Every Body soy is pleased to launch our eco-friendly, soy-blend candles in our highly fragrant scents exclusive to the Kardashian sisters for their new candle line," said Becky Anderson, founder of For Every Body. "To start we hope everyone enjoys the delicious birthday cake scent which will be a sure favorite with any family!"
For more information about the KARDASHIAN candles, or for media product samples or reseller information please contact Kim Power Stilson at kim.stilson(at)foreverybody(dot)com or Jill Fritzo or Noelle Keshishian at http://www.pmkhbh.com.
About For Every Body:
For Every Body, North America's largest woman-owned candle manufacturing company was founded in 1995, in Lindon, Utah, as a retailer of bath and body products by Becky J. Anderson and her daughters. Their one-of-a kind soy-based candles are produced at the large Geneva Road facility in Utah and then sold to major retailers across the country. Additionally, the company offers home décor items and scrapbook supplies. For Every Home, http://www.foreveryhome.net, is a sister-company and caters to home party business owners around the globe. For more information, please visit http://www.foreverybody.com or for media assistance please contact, Kim Power Stilson at kim.stilson(at)foreverybody(dot)com or call 801-615-0035.
###