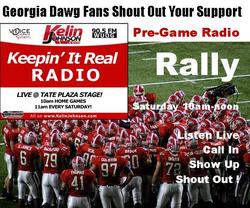 This has been a very troubling season for the bulldogs
Athens, GA (Vocus) October 9, 2010
The Georgia Bulldogs have their backs up against the wall after a string of losses not seen in many seasons, and while some Fans are calling for heads to roll, sports commentator Kelin Johnson, a former star Bulldog himself, is rallying fans for a Shout Out of support on Saturday.
Johnson, who made 10 tackles against Tennessee as a Bulldog player, is calling for the rally to coincide with this week's high profile match-up against the Tennessee Volunteers and during his weekly pre-game radio show which is broadcast live and on the internet every Saturday at 11:00 AM ET (8:00 AM PT).
"This has been a very troubling season for the bulldogs," said Johnson. "The team needs to know they haven't lost their fans. We've got to keep it positive, that's the road to winning."
Georgia has lost four straight games since beating Louisiana in the opener. The Bulldogs had a great chance to knock off Colorado on the road last weekend, but that game ended in a heart-breaker 29-27 defeat. UGA is an unthinkable 0-3 in SEC action so far this season, and some fans are screaming mad and calling for the firing of the coach.
Johnson has rallied many of his fellow former Bulldogs to defend the coach in posts this week, and a number of them will join him live on the radio and at the rally which will be outside the University of Georgia's Tate Student Center, and just steps from Sanford Stadium, the home of the Georgia Bulldogs.
"The coaching matchup in this game features Tennessee's first-year head coach Derek Dooley against Georgia's Mark Richt, who has a longer tenure at his current school than any other SEC head coach.
"The trick is how do we handle this week," said Dooley in his weekly press conference. "We've got an opponent that's starving for a win. It's a prideful program. It's one of the winningest programs in the last 10 years in the country. And to think that they're going to get down or go in the tank is absurd."
Coach Richt had high praise for Tennessee in his comments this week.
"Tennessee has a very physical football team," Richt said. "They will try to knock us off the ball and make big plays from a physical standpoint. We'll have to try to match that."
Fans can subscribe to Kelin Johnson Sports News Direct, can listen to his weekly radio show on KelinJohnson.com and on Voiceamericasports.com and can follow and show their support by going to his Facebook page (http://www.facebook.com/kelinjohnson)
###