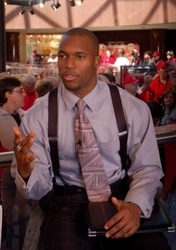 I'm excited to have another opportunity to live out my dream of playing Division 1 football
Athens, GA (Vocus) May 6, 2010
Former UGA QB Zach Mettenberger Confirms School Opportunities Exclusively with Kelin Johnson on kelinjohnson.com.
Things are turning around for former UGA QB Zach Mettenberger, who confirmed exclusively with kelinjohnson.com on Tuesday, that he has at least two scholarship offers on the table: One from the University of Cincinnati under Head Coach Butch Jones and Offensive Coordinator and Quarterback Coach Mike Bajakian. Zach confirms he'll take a visit to the Bearcats on May 13th. And he's looking at a second offer from the University of Louisville, under Head Coach Charlie Strong and Quarterback Coach Mike Groh. Mettenberger will visit the home of the Cardinals on May 7th.
"I'm excited to have another opportunity to live out my dream of playing Division 1 football," Mettenberger said, speaking exclusively to kelinjohnson.com. "Both schools have new coaches. Louisville went to the Orange Bowl recently and Cincinnati had a great season last year. They aren't Georgia, but I will have the chance to throw the ball more at both universities because of a spread offense."
Mettenberger tells kelinjohnson.com that he's had heavy interest and calls from other colleges and universities, including the University of Tennessee, USC, Texas A&M, UK, Troy State, Memphis, and Colorado, and that a number of schools have been calling to get the scoop on Mettenberger from Bulldog Offensive Coordinator, and former winning UGA quarterback Mike Bobo.
Mettenberger, who was dismissed from the team by UGA Coach Mark Richt last month, is looking forward to putting this chapter behind him, after pleading guilty to two counts of misdemeanor sexual battery Monday in Lowndes County, Georgia, where he was sentenced to probation and community service.
" I know I made a mistake and I'm not going to mess up again," says the 6' 5'' Mettenberger. "The people who are judging me don't really know who I am. "The people who are close to me are the ones that really matter."
As a former UGA athlete with some firsthand knowledge of what it feels like to mess up and let down the people who believe in you, I think I know exactly how Zach is feeling. But I also believe in second chances. And right now, he's being given a major one.
Kelin Johnson is a former star UGA Safety drafted to the NFL by the Seattle Seahawks, and is now a frequent analyst, commentator and follows all sports on his web site kelinjohnson.com. Subscribe to Kelin Johnson Sports Direct for more exclusive reports on Zach Mettenberger...on the road to redemption and to a new team where he can fulfill his potential as a winning QB.
-The contents of this breaking news article are copyright Kelin Johnson and Kellinjohnson.com
For more information about this story: kelin(at)kelinjohnson(dot)com.
For advertising and sponsorship information, contact: michael(at)cwi(dot)me
The Kelin Johnson brand and Kelin Johnson.com are represented nationally by Creative Word & Image Inc.
###