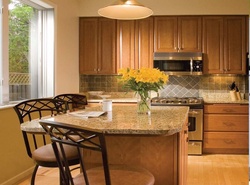 Aberdeen, SD (Vocus) July 12, 2010
Homeowners can be in charge of what their kitchen cabinets cost if they know how kitchen materials are priced. National kitchen and bath remodeling franchise, Kitchen Tune-Up, provides five factors in kitchen pricing on the following items:
1) Wood species or the material that covers the cabinet will effect pricing, but not as much as you might think. A stainless steel clad cabinet will be the most expensive and a melamine (thin plastic laminate) surface will be the least costly. Cherry is usually about 7-10% more than oak. Hickory, oak, and pine usually run very close in price. Unusual cabinet woods like alder, mahogany, fir, rift cut woods, redwood, teak, etc. will usually cost more than common oak or pine. Maple is Kitchen Tune-Up's biggest seller
2) Layout of the kitchen and the cabinet configuration will largely affect the price. A lazy susan will cost more than a sink cabinet. A stack of drawers will be higher priced than a one drawer/two door base cabinet. A U-shaped kitchen costs more than an L-shape with an island. A wall oven/cooktop combination makes the kitchen cost about $1,000 more than a free standing range. Setting a budget to design with can often save many hours of re-design.
3) Door style. A door with many details will usually cost more than a simple door. If an arch is added to a square panel, expect to pay more. A door with lots of grooves or molding generally cost more than a simple door. A full overlay door (door that covers almost the entire cabinet face) costs more than a traditional overlay door. Doors set inside the cabinet frame (called inset) cost more than doors that are mounted over the cabinet frame.
4) Type of finish will vary the pricing. All of Kitchen Tune-Up's finishes are the best available. Painted cabinets will run 10 -15% more than a standard stain finish. Glazes or layered finishes will run 7 - 15% more than a standard stain due to the extra labor. If homeowners could see how many hours go into our finishing process, they would realize that Kitchen Tune-Up's finish pricing is the best value in the entire industry. Sanding, sanding, and more sanding, then dust free processing, baked on top coats and lots of hand rubbing help create our durable high quality finishes. Custom distressing or the rub through worn look are also an increase in labor and cost, but achieve unique looks.
5) Cabinet construction methods and materials. Example: A dovetailed solid wood drawer costs more than a particle board drawer. To save money, DON'T skimp in the area of cabinet construction. Better construction methods make a kitchen durable. Cabinet construction may be 60% of the cabinet cost.
Use Kitchen Tune-Up's Design Tool at http://www.kitchentuneup.com to design your own kitchen. Users can change the cabinet species, color, style, glaze, knobs, and pulls and even design their dream kitchen by choosing different appliances, islands, counters, backsplash, flooring, faucets, lighting, and blinds. To locate the nearest Kitchen Tune-Up for a free in-home consultation, visit http://www.kitchentuneup.com or call 1.800.333.6385.
About Kitchen Tune-Up –Kitchen Tune-Up specializes in home remodeling. They offer wood reconditioning "Tune-Ups", cabinet refacing and redooring, custom cabinetry and closet organization. Kitchen Tune-Up has been ranked Entrepreneur Magazine's #1 home remodeling franchise for 20 years and has more than 200 franchises in the United States and Canada. Learn about franchise territories that are available nationwide and in Canada at http://www.kitchentuneup.com or http://www.ktufranchise.com.
###