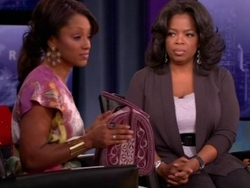 Since the Oprah feature, demand has increased, making Laga Handbags an easy sell for affiliates.
Irvine, CA (PRWEB) July 1, 2010
Laga Handbags are handmade handbags, made by tsunami survivors who are rebuilding their lives in the aftermath of disaster. Until now, these unique handbags were sold via the Laga-Handbags website, at retail boutiques and at purse parties organized by work-at-home handbag consultants.
On June 28, 2010, Laga Handbags launched an Internet affiliate program, offering 20% commission on all sales with cash bonuses for high performers. In the spirit of people helping people, there is no cost to join other than the desire to succeed.
In April, 2010, Laga Handbags were featured on Oprah by comedian Chris Rock's wife, Malaak Compton-Rock. Since the Oprah feature, demand for the handbags has increased exponentially making Laga Handbags an easy sell for affiliates, checkout this short video, Laga Handbags Launches Affiliate Program.
Laga affiliates are welcome to promote their affiliate link via banners, text links, email promotions and using pay per click (ppc) advertising. Affiliate terms are simple and the affiliate support is stellar.
Founded by Roy and Louise Van Broekhuizen, Laga Handbags exists to help survivors of the tsunami. Roy, who does not pay himself or his wife Louise a salary, said: "To be able to build better lives for these women is all we ever wanted to do."
The company's slogan is apt: "If you're going to carry a handbag anyway, why not carry one that helps rebuild lives?" As a Laga Handbags affiliate, the life you rebuild just might be your own.
For more information or to join our affiliate program, visit Laga Handbags.
Contact
Roy Van Broekhuizen
http://www.laga-handbags.com
92 Tangerine
Irvine, CA 92618-4576
Phone : 1.714-623-3671
On Youtube:
http://www.youtube.com/watch?v=DUs8iruo-9E
###