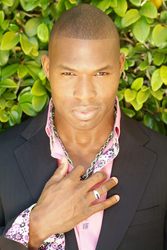 "One of my goals with my music is to inspire audiences to open their hearts and minds and touch their souls." says Lawrence"
Beverly Hills, CA (PRWEB) March 18, 2010
Lawrence Beamen performed "Never Gonna Give You Up" (Barry White Remix) at the Pre-Oscar event for MMPA Scholarship Luncheon at the Montage in Beverly Hills. His soulful and dramatic bass-baritone voice was showcased at this event last week in Beverly Hills. Lawrence's voice brings the lucid overtones of Barry White together with smooth sound of Paul Robeson. His voice has brought audiences to tears at some of his performance.
Lawrence followed up his performance by attending the pre-Oscar event for Noir Magazine at the Luxe Hotel in Beverly Hills and the BrittiCares pre-Oscar fundraiser at the Falcon Lounge in Hollywood.
Lawrence's first release Ancestor's, Classical/Spirituals Featuring: "Ole Man River" sold over 120,000 copies in 2006. In 2009, Lawrence released his R&B single "All Right With Me". Lawrence is currently in the studio creating a hot new urban adult contemporary R&B debut album of original songs. He has tapped a team of top songwriters and producers to collaborate on his 2010 release that will be one of the most anticipated albums of the year.
"One of my goals with my music is to inspire audiences to open their hearts and minds and touch their souls." says Lawrence".
As millions of fans first saw Lawrence on America's Got Talent, they instantly realized that Lawrence's vocal talents were as remarkable and were reminiscent of Luther Vandros, Marvin Gaye, Teddy Pendergrass and Barry White. For an artist as Lawrence, there is no limit to where his artistic capabilities can take him. He is an incredible artist and is on a mission to bring back the smooth R&B soul music to the hearts of many.
About Lawrence Beamen
Lawrence Beamen was born in Vicksburg, Mississippi, where he began singing at home at the age of six. He moved with his family to California at age twelve, where he continued to receive attention for his excellent singing abilities. At the age of sixteen, and with his signature bass-baritone voice came into full effect; Lawrence was asked to sing for Ms. Rosa Parks at an NAACP event honoring the civil rights leader. Since then, Lawrence has performed for many other notables' dignitaries such as former President Bill Clinton. He has opened for Patti LaBelle and Kirk Franklin, performed the National Anthem for San Francisco Giants among others.
In 2009, Lawrence was one of 40 contestants selected to compete on NBC's hit show America's Got Talent season 4; which garnered huge ratings and viewership during the 2009 season. Lawrence was one of 4 finalists in season 4. Lawrence's powerful rendition of "Ole Man River" evoked powerful emotions from the studio audience and the viewers watching at home. Lawrence won the hearts of the judges and received millions of votes from fans all across America.
Please visit LawrenceBeamen.com to listen to his music.
To arrange an interview, bookings, or personal appearance contact:
Press Contact
Yvette Morales
YM & Associates
PR | Marketing | Business Development
"For the ARTS"
949-244-9769
YMoralesY(at)aol(dot)com
###