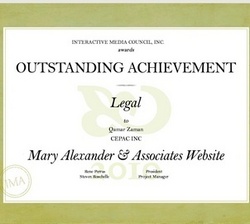 San Francisco, CA (Vocus) November 29, 2010
Lawyer marketing firm CEPAC Inc was recently recognized by the Interactive Media Council Inc for outstanding achievement in website design. Qamar Zaman, Webmaster, was awarded for Outstanding Achievement in the legal category for design and development of the Mary Alexander & Associates website, along with Cepac's Steven Roschelle, Project Manager, and Rene Perras, President.
The Outstanding Achievement award is the second highest honor bestowed by the IMA and regarded as an extremely challenging award to win. For the development of the website for San Francisco based personal injury law firm, Mary Alexander & Associates, the team received an overall score of 467. Winners are chosen from a pool of nominees comprised of web design firms, advertising agencies, graphic artists, corporate marketing departments, and other creative talents from across the globe. More information about the Interactive Media Awards may be found by visiting http://www.interactivemediaawards.com.
About CEPAC Inc.
CEPAC lawyer marketing specializes in marketing for legal professionals through Internet, television, radio, and print based media. With five regional offices located in major cities throughout the U.S. and Canada, the agency works closely with law firms and attorneys to build campaigns that take their level of brand recognition to new heights while achieving outlined marketing goals.
CEPAC is currently offering free consultations for attorneys and law firms seeking to improve their visibility using innovative marketing solutions. More information about Cepac's lawyer marketing services may be found by visiting http://www.cepac.com.
CONTACT INFORMATION:
Rene Perras, President CEPAC
215 South Olive, Suite 300
W. Palm Beach, FL 33401
Phone 561-653-3266
http://www.cepac.com
###