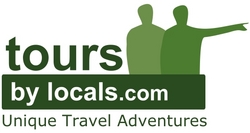 the hotel bar served a great martini.
Vancouver, Canada (Vocus) July 31, 2010
Could you be getting more than just business out of your business trips? Vancouver-based ToursByLocals is convinced that you can – and should! – expand your business travel horizons by daring to add a bit of fun into your trip.
Seeking out local experiences in unfamiliar places is a great way to enrich any business trip. And travelers don't even need to set aside extra time to do it: just change a few of your old business travel routines!
ToursByLocals has some easy suggestions to make the most out of your next business trip:

Everyone ends up eating out on while away from home, and food is a great way to get a literal taste of the city you're in. Stay away from North American chain restaurants and explore the local culinary scene. Foodie websites like Chowhound offer great restaurant recommendations for cities all over the world. Or hire a local expert to show you around to the best places and point out the highlights of the area at the same time. How about tapas in Barcelona? Or dine with a Russian family in St. Petersburg.
Re-consider the benefits of staying at a chain hotel: for the same price as a generic 4 star, you could experience an intimate boutique hotel, more reflective of your host city's culture.
Instead of agreeing to meet up with colleagues in the hotel bar after a day of work, take some time to get out and experience the city you're in: Set yourself the goal of coming home with a great story to tell – something other than "the hotel bar served a great martini."
If you have extremely limited time – for instance an airport layover – a private tour is an excellent way to meet a local and see the highlights of a foreign city before you have to jet back home. Most business travelers fail to consider this last possibility, assuming a tour won't fit into their schedule. And in many cases they're right, as large-scale tour operators don't tend to offer the flexibility and spontaneity that someone who's short on time needs. Popular 'airport layovers' include a tour of Tokyo from Narita, a tour of Paris and a stopover in Shanghai.
But hiring a private guide is a different story: a local guide can offer a customized tour to suit any schedule or travel interest, and pick up or drop off at the most convenient locations – like hotels, conference centres or airports – so that you can make the most of your down time. ToursByLocals has over 700 guides in 85 countries around the world, so whether you're conducting business in New York, Beijing or Mombasa, you'll find a friendly guide waiting to offer you a unique travel experience you won't find watching TV in your hotel room!
Next time you're planning a business trip, take a moment to consider what you could be doing outside of the boardroom – the travel possibilities may surprise you.
About ToursByLocals
Launched in November 2008, Vancouver-based ToursByLocals connects travelers with local guides. Through their website, the company help travelers make a secure connection and transaction with knowledgeable local guides in any part of the world.
ToursByLocals is committed to promoting ethical tourism. By growing a global network of independent tour guides, ToursByLocals empowers these individuals to be in business for themselves, while giving travelers a more authentic experience of local culture.
Travelers who want to travel in a socially responsible way now have the option of hiring one of 550 independent local guides in over 60 countries (and growing) through ToursByLocals.com.
# # #