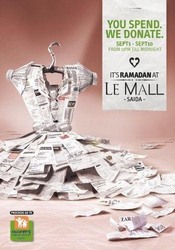 Help Children Cancer Victims by Shopping at Le Mall Saida
(PRWEB) September 9, 2010
'Ramadan: A time to give back'
Ramadan is a time for self-restraint and spirituality; it's a time for giving and fulfilling your obligations. It's also a time where you learn to empathize with those less fortunate around Eid el Fitr. The folks at Le Mall Saida have taken all these traditions on board and given them a novel twist. Between the 1st and 10th of September, Le Mall will donate part of its profits for an hour a day to a charity, namely the Children's Cancer Center.
How does it work? Shoppers at Le Mall Saida between 11pm and midnight during those 10 days just have to drop their receipt in a special box by the mall's main entrance. It couldn't be simpler really. People out shopping and celebrating Eid el Fitr during those peak holiday hours anyway get to help out a worthy cause at the same time.
The box itself will be the subject of a live-feed on the popular portal saidaonline.com. It's nice to see a retail outlet taking such an active role in the life of the community it's engaged with.
'Generosity during the Holy Month of Ramadan'
Going shopping at their local mall may not be the first thing that comes to mind when shoppers think about generosity towards your community. However, this Ramadan that perception could change. Le Mall Saida is taking part in a drive to donate money to the Children's Cancer Center around the busy shopping days surrounding Eid el Fitr.
Le Mall Saida has set up a donation box where customers of the mall's various shops can deposit their receipts during the peak hours between 11pm and midnight, from September 1st to 10th. Le Mall will donate a part of every purchase to charity.
For more details on the whole event, visit Le Mall's website http://www.lemall.com.lb/?event=ramadan
###