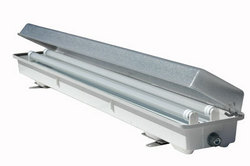 We offer 4 foot and 2 foot versions of our corrosion resistant, hazardous location LED lighting for UL rated Class 1 Division 2 offshore environments
Kemp, TX (Vocus) May 26, 2010
Larson Electronics' magnalight.com announced several new offerings for corrosive, marine and offshore hazardous location lighting areas. These hazardous location LED lights, featuring UL certifications for Class 1 Division 2 areas, include non-corrosive, stainless steel and fiberglass reinforced polyester blend housings that encapsulate 50,000 life hour LED bulbs. The HALSS-48-2L-LED stainless steel Class 1 Division 2 LED light and the fiberglass reinforced polyester HALP-48-2L-LED light are suited for offshore, marine and other corrosive environments. These non-corrosive hazardous location lights encapsulate LED T series style LED tubes, that are both Buy American Compliant and 50,000 life hour rated for high vibration environments. These Class 1 Division 2 LED lights are available with relatively short lead times, usually less than 1 week.
"We offer 4 foot and 2 foot versions of our corrosion resistant, hazardous location LED lighting for UL rated Class 1 Division 2 offshore environments," said Rob Bresnahan of Larson Electronics' magnalight.com. "For light duty applications, where the fixture is free from vibration and incidental damage, the Class 1 Division 2 LED lights, including the 4 foot HALP-48-2L-LED and 2 foot HAL-24-2L-LED offer long lasting, high light output at an economical price point. For Zone 2 lighting applications where constant contact and vibration are present in the hazardous location area, the Class 1 Division 2 lights, including the stainless steel HALSS-48-2L-LED LED light and the HALSS-TRN-400WMH trunnion mount metal halide flood light are better choices. Our solid state LED lights are rated at 50,000 hours of life and are specially designed for hazardous location lighting. Their bright output and durability has made them popular in our UL rated Class 1 Division 1 and Class 2 Division 1 lights for rigs and paint spray booths. Finally, we maintain higher inventory levels, and we can deliver our explosion proof and Class 1 Division 2 LED lights within a few days for small quantities and within 1-2 weeks for larger quantities."
Larson Electronics offers a wide array of general area and hazardous location lighting for offshore, marine and corrosive environments. A wide range of industrial and military grade LED lights are widely used throughout the offshore, manufacturing and marine environments around the world, while their explosion proof LED lights are popular with manufacturing, paint spray booths and military installations across the globe. You can learn more at http://www.magnalight.com or contact 1-800-369-6671 (1-214-616-6180 international).
###