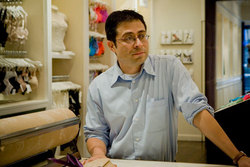 Ellen, Jennifer, Margaret and Treacle are voices the lingerie industry needs to pay attention to
Dobbs Ferry, NY (Vocus) November 16, 2010
The Lingerie Journal has recruited the talents of Ellen Lewis, Jennifer Manuel Carroll, Margaret Shrum and Treacle to write as contributors for the publication's lingerie news and lingerie trends website, http://www.thelingeriejournal.com.
"Ellen, Jennifer, Margaret and Treacle are voices the lingerie industry needs to pay attention to," said Luis Paredes, publisher of the Lingerie Journal. "They genuinely want to help retailers, consumers and this industry move forward."
The new contributors bring with them their collective knowledge as retail consultants, authors, store owners, buyers and self-described lingerie addicts.
"Ellen Lewis has worked in both the manufacturing and retail sides of the lingerie industry for more than 30 years," said Paredes. "Her consulting company, Intimate Apparel Concepts is focused on the development of intimate apparel specialty store and ecommerce businesses."
Her articles, explained Paredes, reflect her experience and "are already a resource and inspiration to our readers."
Jennifer Manuel Carroll writes from the perspective of an accomplished author and successful retailer.
"Retailers need information they can put into use immediately and as Jennifer's articles are penned from her successful experience as a lingerie store owner, they can trust her advice," explained Paredes.
Carroll opened her shop, Bellefleur Lingerie Boutique, in Seattle in 2002. Carroll is also the author of Underneath It All, A Girl's Guide to Buying, Wearing and Loving Lingerie, a resource for the lingerie lover and novice alike.
Margaret Shrum, aka, the Lingerie Goddess, a New York-based fine lingerie expert and personal shopper with over two decades of hands-on experience styling and fitting thousands of women is also the Lingerie Journal's newest contributor.
"I have a huge base of information to share with the retailers, wholesalers, designers, advertisers and marketers about what women really love, what they hate and how to fill some important gaps in the lingerie market," said Shrum.
Her compassionate and feminine approach has already attracted a following of women who are also interested in embracing and owning their unique beauty with lingerie through her company http://www.thelingeriediet.com.
"Treacle is also our latest contributor, who, like Ellen, Jennifer, and Margaret, loves the lingerie industry and understands what consumers want and how to help lingerie retailers connect with their customers," said Paredes.
Treacle runs her über-successful blog, The Lingerie Addict as a haven for lingerie lovers of every nation and persuasion. A definite must-read for anyone that loves lingerie said Paredes.
"My column at the Lingerie Journal is all about bringing you, the lingerie store owner, the perspective of us, the lingerie consumers," said Treacle.
Paredes noted that it was important to bring together a variety of experts to help his readers.
"Trust is incredibly important. I want our readers to trust the information we are giving them. We're a small publication with a big dream - help our readers succeed," explained Paredes. "I want the store owner to use the Lingerie Journal as a resource to stay in business and I want consumers to use our site as a resource for the latest trends and inspiration."
###