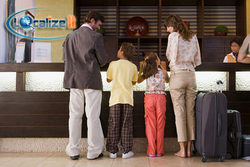 Westerville, OH (Vocus) March 6, 2010
Localize It, an online hospitality advertising company, says that the latest report from PKF Hospitality Research, hotels will gain a year-over-year quarterly increase in RevPAR (Revenue per Available Room) in the second quarter of 2010. After a record decrease in business in 2009, hotel and motel owners will want to be aggressively marketing as the industry regears.
Consumers searching the internet are now changing their searches to include a specific area, and phrases like "best deal, affordable, and cheap, in their Google search. Hitwise, a internet traffic analyst company, reported that 38% of all visits to the online 'travel' industry went to the top 10 websites for the month of January and February, 2010. 47% went to the top 20 websites and 69% went to the top 100 websites. Google, a search engine with over a trillion websites indexed and over 100 million searches a month, is constantly changing how people find your hotel or resort location. Google currently holds an estimated 60% of overall search traffic, and 15% of the majority of the Travel industry search traffic.
Google gives a hospitality owner over 4 possible ways to have their hospitality location found online. These points of conversion are; Google Local Maps, Sponsored Ads, Press Releases, and Natural Search Ranking. The more places that hospitality establishment are found, the better opportunity for someone to click through.
By using Google Local search results, hotel owners are able to have a verified ad visible at the top of the search results for their location. Just having ads verified does NOT mean that a business is going to obtain that top placement. A hotel owner needs to obtain multiple citations from directories other than Google, reviews from clients, enriched content, images, coupons, and more to get that top placement. Having enriched content is a plus, but having a website, custom ebrochure, or an SEO landing page. Once the searcher clicks the link and finds the graphical portrayal of business; this engagement should grab the user and develop a point of interest to convert them into being a customer.
Sponsored Ads or Pay Per Click advertising are great easy ways to promote locations online. Sponsored Ads start with obtaining a budget and every click that is generated goes against that online budget.. This will not get guaranteed placement into Google Local or in the Natural Organic rankings but it will provide added visibility. Google does not guarantee any placement positions with this service.
Online news delivers multiple facets of visibility for your hospitality business. By utilizing a SEO press release with a company like Localize It, a resort, spa, hotel, motel, bed and breakfast, or inn could be found on Page 1 of Google and also enlisted in other online news media stands. These news releases engage users to read about events or promotions like wedding trends or holiday events in a physcial region or geographic area, which in turn promote the hotel's as a place to stay, host aconference, call about wedding hall information and more. Not only do the releases show off pictures , news coverage, and contact information, but they also help with your overall Search Engine Ranking online. These press releases give high level search engine backlinks or "link juice" to the website, which will help in overall search engine marketing. Companies like Localize It, offer distribution networks from one single source to promote their release.
Search Engine Optimization otherwise known as SEO; resides below sponsor ads and sometimes below local listing results. This area of placement on Google requires intense strategy and often, a lot of time to create the rankings. Some search engines such as Google, require a multitude of factors to create a high rank on their directory. Google looks for proper website linking architecture, enriched content, Meta code, inbound links, and further citations across the net. The use of companies like Localize It, create popularity online about a hospitality's website and location. Though companies like Localize It do not own Google or guarantee placement, they adapt methods and strategies to promote hotels. The more a hospitality website is at the fingertips of that next internet searcher, the better ability for gaining consumer business.
What does localization on Google mean to the hospitality industry? It means that without the use of engaging Google as part of the hotel location marketing source, each single single location can become pushed aside by other competition in the area. Localize It's, owner, Aaron Greene, whose firm was recently ranked Top Local Search Firm, by 3rd party TopSeos.com says, "We have developed creative strategies for Hotel and Resort owners to capture not only business for their physical geographic location but also for relative geographic terms that have no physical address. For example, the Quad Cities is not a physical location, however Davenport, Iowa is. Our client researched firms to work with and selected us, due to our ability to educate the client and show them the process we will take to make them gain additional reservations for their rooms and banquet facilities. To date our monthly meetings with the Clarion yields rave reviews about new bookings and customers they meet."
In researching, Localize Its case study more; the Quad City Clarion Hotel and Conference Center stated to us that,"Our hotel researched a few other internet companies and found Localize It offered a complete package at very affordable cost. Their primary focus was not only to create a beautiful website but how to gain top positioning and ranking for a website in search engines when looking for relevant words and phrases. They worked with us on the design; understanding and guiding us through the keyword / phrase selection, link building and setting up title tags on pages that make the individual pages get noticed by the search engines."
"Our hotel now stands out on local search engine pages for various Quad City search phrases. We have been very pleased with their work and ongoing support. Last month alone; over 30 reservations were directly purchased from our website. Being hesitant to get away from traditional marketing was a challenge, but being educated and seeing reservations come in, is proof that Hotel Internet Marketing is a must in any hospitality budget."
To hear more about hotel internet marketing, or to gain a free consultation with Localize It; log on to http://www.localizeitnow.com/hotel-internet-marketing.htm .
###