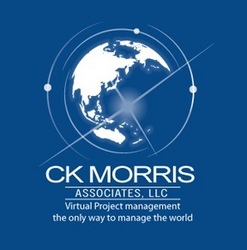 We are not your typical project management consulting company
(Vocus) November 1, 2010
CK Morris Associates, LLC Virtual Program and Project Management, a USA minority woman owned project management consulting and service provider, is announcing its recent online business launch. The firm specializes in providing senior level strategic program and operational project management consulting and services virtually, while their clients benefit from reduced project overhead costs and other efficiencies. Their online approach to project management consulting and staffing opens the door to a new alternative, allowing companies easier access to project management knowledge.
"We are not your typical project management consulting company", says Claudia Alex Morris, MBA, PMP, President and Owner of CK Morris Associates, LLC Virtual Program and Project Management. "Besides the fact that our leadership consists of seasoned technology and business project managers, we also know what smart cost cutting efficiencies can save on project overhead. For instance, the time and expense required to bring a conventional project manager consultant on location can add up."
Let's take for example downtime and unplanned waiting periods. Time usually associated with activities such as travel, setting up computer equipment and logon access, organizational decision making and vendor delays. These types of activities can result in inefficiencies that unnecessarily increase project costs. Conventional consultant staffing companies invoice for every hour their contractor reports to work. As the onsite project manager consultant sits at their desk, their unproductive hours are being charged against the project budget.
CK Morris Associates, LLC Virtual Program and Project Management compares project management services to other skilled professions such as lawyers, doctors, and accountants. "We offer services that provide strategic business value, therefore we charge only for the value we provide," said Morris. "Our model is to be there when our clients need us, and when they don't there are no charges. Over the life of a project, a measureable cost savings will be realized."
Virtual delivery also allows the firm to provide services to all business sizes and industries. "Small to large companies no longer have to sacrifice the benefits of project management knowledge due to limited seating space, equipment, FTE approvals, or project budgets," said Morris. "Our project managers have the agility to provide the client customized services during all or portions of the project life cycle."
The 21st Century is the era of virtual business services. CK Morris Associates, LLC Virtual Program and Project Management is in a good position to meet the growing and flexible needs for today's project management consultant staffing.
CK Morris Associates, LLC Virtual Program and Project Management is an online service and consulting firm specializing in remote strategic and operational delivery of senior level program and project management expertise. Clients are assigned a remote project manager to plan, lead, and direct their projects and resources (vendors and project teams). Project managers work virtually, therefore reducing the client's carbon footprint and hours charged against the project budget. The company, minority woman owned, is located in Seattle, WA. The firm's President and Owner, Claudia Alex Morris, MBA, PMP, is an accomplished senior project manager, writer, educator, and volunteer. The firm strongly believes in their motto, "Virtual project management is the only way to manage the world!"
###