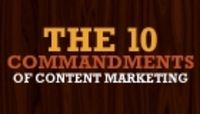 The prevalence of social media combined with a steady, fast stream of emerging technologies, has caused purchase decisions to become fragmented and highly-personalized
Portland, OR (Vocus) October 6, 2010
To encourage marketers to create brand content that takes advantage of the blurred the lines between paid and earned media to derive better engagement and ROI, White Horse is offering The 10 Commandments of Content Marketing Webinar on October 13th, 2010.
The complimentary event offers 10 content principles that increase brand participation, relevance and sharing. Eric Anderson, VP of Marketing at White Horse, will lead the event packed with practical advice and real-world examples that demonstrate the effectiveness of targeted content development that anticipates and supports social activity.
"The prevalence of social media combined with a steady, fast stream of emerging technologies, has caused purchase decisions to become fragmented and highly-personalized," said Anderson. "Marketers who make a conscious shift to creating and distributing brand content with maximum consideration to user preferences and social activity will triumph."
From user-generated-content to social integration and measurability, the Webinar provides something for everyone. Sign up for The 10 Commandments of Content Marketing Webinar to sharpen your approach to brand engagement. Visit the White Horse Resource Center to access the full collection of free educational Webinars, podcasts, videos and white papers.
About White Horse
White Horse is a 30-year-old digital marketing agency that wants to expand your notion of the word "digital." White Horse pursues the convergence of new and traditional media, from display ads with embedded video to print ads with QR codes, and Web sites that extend social reach. White Horse services include Web design, integrated marketing, technical engineering, emerging media, and audio/video production.
# # #