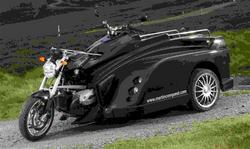 We (Superior Van & Mobility) are honored and excited about becoming a Mobility Conquest dealer
Louisville, KY (Vocus) July 13, 2010
Superior Van & Mobility was recently chosen to be an exclusive dealer for the sleek and innovative wheelchair accessible motorcycle by Mobility Conquest in Kentucky (Louisville and Lexington), Indiana (Indianapolis, Fort Wayne, South Bend and Evansville) and east Tennessee (Knoxville) regions. Superior Van prides itself with 34 years of providing quality and safe products.
"We (Superior Van & Mobility) are honored and excited about becoming a Mobility Conquest dealer," Sam Cook, Owner of Superior Van & Mobility said. "It was important to us to be able to give our customers the opportunity and freedom to enjoy the open road as they once did, or have always dreamed of doing."
Mark Allen Roberts, President of Mobility Conquest, said they look for market leaders with a reputation of strong customer service and technical expertise. The dealer is required to be NMEDA QAP and have a proven commitment to a consultative sales approach to serving their customers.
"Superior is the recognized leader in each market they serve due to their focus on serving clients and matching them with the ideal solution based on the nature of the client's disability," Roberts said. "We were honored to win their support as a Conquest dealer as it was our vision to partner with the best of the best dealers in each market, and Superior was clearly that dealer."
In 2010, Mobility Conquest was chosen to be the exclusive supplier and assembler of the motorcycle in the United States. The design allows consumers in wheelchairs to enter the rear ramp of the motorcycle and go up the ramp, locking the chair in place behind the steering wheel. This bike was designed for consumers in wheelchairs with strong upper bodies but physical challenges from the waist down and is surprisingly powerful with a 1200 CC BMW engine and can go from 0 to 60 in 7.5 seconds.
Like a number of innovative products for the physically challenged community, this bike was originally designed by Alan Martin whose son was injured at work and unable to participate in his passion for riding motorcycles. After years of development and just under $5 million Alan's desire to help his son has turned into a business helping a number of physically challenged consumers enjoy the thrill and freedom of riding a motorcycle.
Superior Van & Mobility
Superior Van & Mobility, LLC is dedicated to improving the quality of life for our customers with disabilities. Celebrating 34 years of serving the disabled community, Superior provides only state-of-the-art mobility vans, lifts, accessories and service. We continually educate and train our staff to be mobility experts, utilizing the best practices of the industry. Our ultimate goal is to provide our customers with a new level of freedom and independence by delivering the best in transportation solutions. Superior Van & Mobility has seven locations throughout Indiana, Kentucky and Eastern Tennessee and also offers equipment training for all of its products. For more information, visit http://www.superiorvan.com.
###