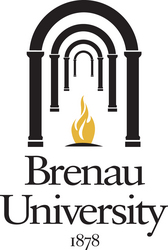 For people who are accustomed top watching the courtroom histrionics on television lawyer shows, this could be an eye-opening experience to watch
Gainesville, GA (Vocus) September 28, 2010
Brenau University will host its 8th annual mock mediation tournament here Friday and Saturday, Oct. 1-2, an intercollegiate competition designed to give students practical experience as well as to illuminate one of the fastest-growing methods of solving legal disputes without costly, time-consuming litigation and courtroom dramatics.
This year six teams from colleges and universities in Georgia, Tennessee and North Carolina will participate, including new teams from Gainesville State College, Western Carolina University and Clayton State College. More experienced teams from Brenau, the University of North Carolina Charlotte and Middle Tennessee State University will join the newcomers.
Lin Inlow, director of education and mediation at Georgia State University's Consortium on Negotiation and Conflict Resolution, will conduct the opening training session for all those participating in the tournament. Inlow, a licensed professional counselor, administers the mediation program for the University System of Georgia and has extensive experience locally, nationally and internationally ranging from addressing gentrification projects in Atlanta neighborhoods to working on the Sudan peace initiative in the Netherlands.
"For people who are accustomed top watching the courtroom histrionics on television lawyer shows, this could be an eye-opening experience to watch," said Ken Frank, chairman of the humanities department at Brenau and head of the university's highly regarded legal studies program. "In every room they would see students working together solving real-world problems related to personal injury, contract breaches, community issues, age discrimination, even college roommate dust-ups. In mock trial competitions, just like in a courtroom, it is all about one side winning. In a mediation competition you are looking for collaborative outcomes from which everyone benefits."
Although the program is not a prerequisite for law school, many Brenau students who participated in the national competitions have gone onto law school and do quite well there and in their subsequent careers, Frank said. "This really changes the way students approach law school," he said. "They understand that not everything has to be solved through an adversarial process and that once you put the dispute in the hands of a judge, you have lost control. They learn that, if the disputants shape the outcome as they do in mediation, they will buy into the solution and will be more satisfied with the process."
One of Frank's top mediators for the past few years, Mercy Changwesha, who graduated in May, won a full scholarship to the prestigious University of Virginia School of Law. "Law school scholarships are hard to come by," Frank said. "But a full ride to Virginia? Almost unheard of. I think some of the skills she honed here as a mediator had something to do with it."
For 11 years, since the tournaments were first established and now sanctioned by the International Academy of Dispute Resolution, Brenau has been sending teams to the national tournament, competing against teams from much larger universities like Boston University, Drake, the University of Wisconsin and others, and rarely finishing outside the top five teams nationally. A corner of Frank's office is a testament to its outstanding performance, which includes a national championship in 2001, a fourth-place finish in 2008 and a ninth place finish last year.
In fact, Frank credits a member of one of his national competition teams, Anne K. Banford, a 2004 graduate and an associate with the Gainesville, Ga., law firm, Coleman & Chambers, with coming up with the idea of the university's hosting its own competition during a conversation on the plane ride home from the third-place finish in the 2003 national tournament.
"She saw our invitational tournament earlier in the fall as an opportunity for teams to practice for the National competition in November," Frank recalls. Now Banford serves on the conflict resolution studies advisory board at Brenau and will be a judge of the student competitions during the Brenau tournament.
This year's national tournament will be at Drake Law School in Des Moines, Iowa, Nov. 5-6.
ABOUT BRENAU – Founded in 1878, Brenau University currently enrolls about 2,800 students in graduate, undergraduate and preparatory programs on campuses and online. The main campus of the Georgia-based liberal arts institution, which includes the Brenau Women's College, is in Gainesville with [other campuses in Augusta, Kings Bay and in two metro Atlanta locations, Norcross and Fairburn. Brenau's 2011 ranking as one of the top 15-best higher education values in the Southeast by U.S. News & World Report marks the university's sixth consecutive year in that position for the magazine's America's Best Colleges guidebook. Brenau University also has been cited as one of the best colleges and universities to work for by The Chronicle of Higher Education and since 2004 has been named by Princeton Review as one of the best colleges in the Southeast.
###