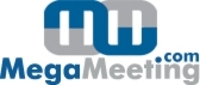 provides an effective, easy to use solution for video conferencing at a reasonable price.
Los Angeles, CA (Vocus) July 28, 2010
In this age of Web 2.0, businesses are finding it crucial to transform their workplace into a digital friendly environment. This is especially true when businesses have employees and representatives spread throughout all areas of the country. Headquartered in Southern California, The All American Products Group has discovered that, by using MegaMeeting.com's 100% browser-based video and web conferencing services, barriers caused by geographical location are no longer an issue.
As the largest drill bushing manufacturer in the United States, The All American Products Group found themselves constantly flying salesmen and potential salesmen into their headquarters for meetings and interviews. This got to be quite expensive, so while looking for a cost effective way to meet with team members, they found MegaMeeting.com. David Bond, IT Manager, All American Products Group stated that MegaMeeting.com's video and web conferencing services "provides an effective, easy to use solution for video conferencing at a reasonable price."
Utilizing the high quality video feature provided by the MegaMeeting.com software, the Human Resource department of The All American Products Groups is able to virtually meet with potential candidates and sales staff. This is all done remotely, without losing the impact of seeing candidates in person. David Bond went on to say, "The owner of All American Products Group prefers to have meetings face-to-face. With Megameeting.com, the owner is able to talk face-to-face with salesmen and interview potential salesmen without having to physically fly them to our location."
As of right now, the MegaMeeting.com product is being used specifically for sales meetings and employee interviews, but in the future The All American Products Groups will be considering using the web-based software for product demonstrations as well.
About MegaMeeting.com
MegaMeeting.com is a leading provider of 100% browser based video & web conferencing solutions, complete with real time audio and video capabilities. Being browser based and working on all major operating systems – Windows, Mac & Linux; MegaMeeting.com provides universal access without the need to download, install or configure software. MegaMeeting.com web conferencing products and services include powerful collaboration tools that accommodate robust video & web conferences, including advanced features such as desktop/application sharing, i.e. Word and Excel documents and PowerPoint presentations without the need to upload any files. MegaMeeting is ideal for multi-location web based meetings, virtual classrooms, employee trainings, product demonstrations, company orientation, customer support, product launches and much more.
For more information please visit http://www.megameeting.com or call (818) 783-4311.
###