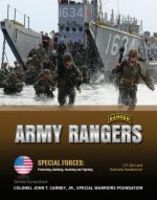 We're all aware that our world faces the dangers of terrorism, political instability, and conflict
Philadelphia, Penn. (Vocus) July 23, 2010
Mason Crest Publishers announces the creation of a new series of books aimed at offering young adults an inspiring insight into the elite military world of the Special Forces units. The Special Forces: Protecting, Building, Teaching and Fighting book series is written for students ages 12 and up. The 10 book series looks at the history, entry and training requirements, and the unique mission of each branch of the Special Forces. The full line of books will be in school and public libraries across the country in September 2010 for the upcoming school year.
"We're all aware that our world faces the dangers of terrorism, political instability, and conflict," said Louis Cohen, Principal of Mason Crest Publishers. "It's understated that our Special Forces are there not only to fight but to protect populations and build infrastructure. Our series of books highlights their efforts to provide us with a safer, more peaceful world and inspire our nation's youth to appreciate their roles and missions."
The expert editorial consultant on the series, Colonel John Carney, Jr., is USAF-Ret President and the CEO of the Special Operations Warrior Foundation.
Elite forces are small, special units that are universally the first to engage, whether on reconnaissance missions or in direct action, surgical operations, preemptive strikes, retaliatory action, and hostage rescues. They lead the way in today's war on terrorism, the war on drugs, the war on transnational unrest, and in humanitarian operations as well as nation building. When large-scale warfare erupts, they offer theater commanders a wide variety of unique, unconventional options. Unfortunately, theirs is dangerous work. Since the 1980 attempt to rescue hostages from the U.S. embassy in Tehran, American special operations forces have suffered casualties in real-world operations at close to fifteen times the rate of U.S. conventional forces.
"Elite forces are truly 'quiet professionals,' as we seldom hear all that they do," said Ellyn Sanna, Coordinating Editor of the series. "They are self-motivated, self-confidant, versatile, seasoned, and highly skilled individuals who rely on both teamwork and the ability to function independently. Whether or not readers choose to one day join the Special Forces, the skills and character qualities described in these books will be useful to young adults in real-life situations, both now and as they face the challenges of the future."
The titles in the New Special Forces: Protecting, Building, Teaching and Fighting series are:
1. Air Force
2. Army Rangers
3. Elite Forces Selection
4. Escape and Evasion
5. Green Berets
6. Marines
7. Navy SEALs
8. Urban Warfare
9. Parachute Regiment
10. World's Best Soldiers
For more information on the series and Mason Crest Publishers, call 866-MCP-BOOK or visit http://www.Masoncrest.com.
About Mason Crest Publishers: Mason Crest evolved in 2002 from some of the key people responsible for making Chelsea House Publishers one of the leading young adult and reference school and library publishers. Mason Crest is dedicated to providing the most unique upper elementary and young adult quality books available within the school and library marketplace. With each series Mason Crest obtains the most proficient & knowledgeable editors, advisors, senior consultants, major institutions, authors, agencies, and specialized "think tanks" to ensure the books meet the highest standards of excellence. Mason Crest is currently offering over 1,500 titles that reflect the company's dedication to quality. A complete list can be found online at http://www.masoncrest.com.
# # #