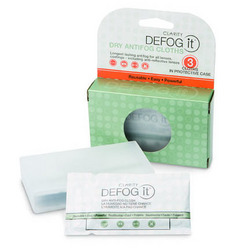 Independent research clearly indicates that fogged eyewear is an issue influencing safety eyewear usage in the workplace
Valley View, Ohio (Vocus) March 31, 2010
Attendees at the Ohio Safety Congress & Expo can learn from the makers of Clarity Defog It about independent research that shows fogging is a significant factor influencing worker use of personal protective eyewear. They'll also be able to test the performance of Clarity Defog It anti-fog for safety glasses, goggles and faceshields, a product used by the military worldwide to prevent fogged eyewear in vision critical situations. Information, demonstrations and product samples will be available at booth 441.
In a study published in Accident Analysis & Prevention Magazine in 2009, research with focus groups made up of manufacturing, construction, service, medical and retail workers shows that fogging is the Number One vision-related reason for not wearing protective eyewear in the workplace. An anti-fogging solution is named as one of the Top Five ways to increase eyewear usage, named by nearly 60% of groups.
"Independent research clearly indicates that fogged eyewear is an issue influencing safety eyewear usage in the workplace," says John Swett, Director of Marketing for Nanofilm, maker of Clarity Defog It anti fog towelettes and liquid. He adds, "We're committed to helping safety decision-makers understand how anti-fog could improve compliance," adds Swett, "and showing them how Clarity Defog It anti-fog can help solve a serious safety problem."
Clarity Defog It anti-fog liquid and Clarity Defog It anti-fog towelettes are safe and effective on safety glasses, safety goggles, faceshields and eyeglasses, even high-tech anti-reflective and super-hydrophobic lenses. Just one application provides long-lasting anti-fog protection.
Defog It has been rigorously tested for performance. In one test, a lens treated with Defog It was held over constant hot steam for 60 minutes without fog forming. Similar products failed in as little as 5 minutes. In another test, lenses coated with Clarity Defog It were moved between cold and hot environments 100 times without fog forming.
Clarity Defog It has earned the Seal of Approval of the 750,000-member Handyman Club of America after testing with professional-level craftsmen. It's also earned the Seal of Approval of the 760,000-member North American Hunting Club, as well as positive reviews from webBikeWorld and other sources.
Consumers and organizations can purchase Clarity Defog It at http://www.defogitworks.com or at 1-888-ENDS-FOG. The site also contains videos of product performance and safety resources.
Clarity Defog It is made by Nanofilm, a global optical leader in lens care and coatings. Millions of people around the world use Nanofilm lens care products, as well as nanotechnology-enabled coatings. More information is available at http://www.nanofilmproducts.com.
Factors Influencing Worker Use of Personal Protective Eyewear by David A. Lombardi, Santosh K. Verma, Melanye J. Brennan and Melissa J. Perry was published in Accident Analysis & Prevention Magazine in March, 2009.
Contact: Lynn Lilly
216-702-5167
###