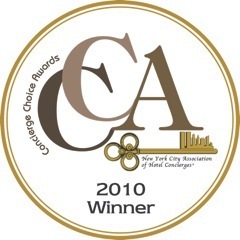 This higher level of service and attention is the driving force behind the company's industry-wide recognition, including this Concierge Choice Award
New York, NY (PRWEB) October 29, 2010
OnBoard Tours was awarded a prestigious 2010 Concierge Choice Award by the New York City Association of Hotel Concierges. OnBoard Tours offers numerous sightseeing tours in New York City and Washington DC, but its core product is the NY See It All! Tour, which is the only sightseeing tour in New York City that combines a bus tour with short walks and a boat cruise. OnBoard Tours are unique in the industry in that their tour guides hop off the bus with their guests, providing a superior experience to visitors to Washington DC and New York City. "This higher level of service and attention is the driving force behind the company's industry-wide recognition, including this Concierge Choice Award," said Tom Schmidt, the company's co-founder and Chief Executive Officer.
Mr. Schmidt expressed gratitude to the concierge community for the recognition and promised to stay the course by providing an even wider variety of tours based on the same concept of having tour guides step off buses with their guests. Senior Sales Manager, Mr. Darko Marsalek, added: "The NYC concierge community is the 'cream of the crop' when it comes to providing the highest level of service in the hospitality industry. As a group, they demand outstanding service. The fact that they recognized OnBoard Tours with this award is as much a challenge as it is a recognition. OnBoard will meet the challenge by continuing its commitment to providing superb customer service and quality." Mr. Marsalak added that OnBoard thanks the concierge community for its continued support.
The Concierge Choice Awards Gala, the New York hospitality industry's most prestigious awards gala, were established in 2007 and recognizes companies, organizations, and individuals who create exceptional experiences for New York City visitors. Voted on by NYCAHC Hotel Concierges, these prestigious awards recognize the city's elite in the tourist, theater, restaurant, retail, service, and transportation industries. A portion of the proceeds raised at the event is donated to the Les Clefs d'Or Relief Foundation and the NYCAHC Charitable Fund.
OnBoard Tours was established in 2004 under the name of New York Party Shuttle. The company changed its name to OnBoard Tours in 2008. In 2006, the company expanded into Washington DC, and today OnBoard DC Tours provides the highest rated bus tour in Washington DC. The company also has operations in Baltimore and Philadelphia. The company's focus has always been to provide conceptually better sightseeing tours, by dropping the old fashioned way tours are conducted. Onboard Tours pioneered fully guided, comprehensive city tours by using small luxury buses, offering a climate controlled environment, employing the best tour guides the city offers, and fully committing to providing superior customer service. This additional service is exemplified by the free educational tools the company provides, such as its "11 Fascinating Sights Most DC Visitors Miss" report.
Inquiries should be directed to tom [at] onboardtours.com or 212-852-4821.
###