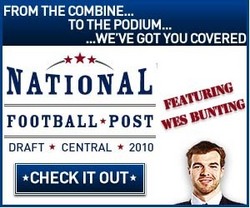 La Jolla, CA (Vocus) March 2, 2010
With the NFL Scouting Combine in full swing this week and the draft rapidly approaching, the National Football Post unveils its Draft Central 2010 page – the place to go if you follow college prospects hoping to make their mark in the NFL.
The launch of Draft Central coincides with the combine taking place in Indianapolis. The NFP will staff the event and report daily with updates and news. Our draft pages are the perfect complement to the combine because readers will be able to read detailed reports about most of the players who will be running drills and facing interviews with team executives and scouts.
Draft Central contains news and feature articles, prospect rankings by position, the NFP's Super 30, live chats, podcasts, videos and these features:
"Ask Wes": NFP director of college scouting Wes Bunting answers reader questions about players and team needs.
Scouting Reports: The NFP currently has scouting reports and grades for roughly 600 players. Find out how we rank the prospects at every position and explain their draft grades.
Live chats on the site will ramp up soon and take place throughout the next several months featuring Bunting and other NFP experts.
About the National Football Post (NFP)
National Football Post (http://www.nationalfootballpost.com) is the new online source for in-depth news, analysis and insider opinion on professional football. Unique for its access and insight into the innermost workings of football, the National Football Post features the voices of NFL executives, top player representatives and former players. The site also features guest writers and voices from people inside the world of professional football.
###