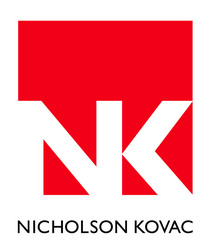 "The award symbolizes the importance of the collaborative, strategic relationships we foster with all of our clients in an effort to develop great work that gets results."
Kansas City, Mo. (PRWEB) June 16, 2010
Nicholson Kovac, Inc. received top honors at the B2 Awards, the Business Marketing Association's annual national marketing communications competition, awarded during the BMA 2010 National Conference in Chicago earlier this month.
The agency's "Think in Rows Anthem," developed for client Kinze Manufacturing, was the Group Category winner for Web and Video. This award-winning video was part of the larger Kinze "Think in Rows" campaign.
"This video was just one aspect of a campaign based around sharing the Kinze mentality in a relevant way," said Pete Kovac, Nicholson Kovac president and CEO. "The award symbolizes the importance of the collaborative, strategic relationships we foster with all of our clients in an effort to develop great work that gets results."
To be eligible for the honor, the "Think in Rows Anthem" won Best of Category in Video Production, Under 5 Minutes. The 27 individual categories were then narrowed down to just 10 combined categories to determine overall winners.
In addition to the Group Category and Best of Category awards, Nicholson Kovac also received an Award of Excellence for 3M Media Diagnostics' Flu Detection Banner Ad Campaign.
Formerly the Pro-Comm Awards, BMA's B2 Awards competition recognizes and honors business marketers for innovative global brand strategy, customer marketing strategy, integrated internal and external marketing communications strategy, e-business strategy, new media strategy, and successful new product and service introductions. The BMA is a premier professional development organization providing B-to-B education, networking and resources in 22 chapters across the United States.
"We are thrilled that our work for Kinze and 3M has been honored by the BMA," Kovac said. "Recognition from our peers in the business-to-business marketing industry gives us another reason to be proud of the dedication of our teams and their ability to accomplish our client's goals."
About Nicholson Kovac, Inc.
Nicholson Kovac, Inc., an integrated marketing communications company, is counted among the top independent advertising agencies in the country and serves national and global brands. At the heart of Nicholson Kovac's work is Relevant IngenuitySM a proprietary process of discovering the relevant issues long before the search for creative solutions begins. The result is smarter, more efficient communications that deliver measurable results for clients. For additional details, visit http://www.nicholsonkovac.com or follow us on Twitter at http://twitter.com/nicholsonkovac or http://twitter.com/FPeteKovac.
About Business Marketing Association
The Business Marketing Association is the leading professional resource for B2B marketers and communicators. BMA has earned the respect and loyalty of members by following a simple, three-part strategic vision. They intend to remain the primary repository of the best in business-to-business marketing information and resources, attracting the best practitioners and promoting the best practices in the industry. For more information, visit http://www.marketing.org.
###